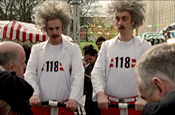 The latest ad shows the two 118 118 runners dressed in scientists' lab coats, riding around on segways.

It shows them answering questions from people they encounter on their journey.

Leon Jaume, WCRS executive creative director said: "You mess with icons like the 118 118 boys at your peril.

"But with a bit of judicious tweaking to hair and wardrobe we've managed to retain their crazed energy while also making them look like complete geniuses."

The campaign was created by Katy Hopkins and Steve Hawthorne, with photography shot by Richard Ansett and films directed by Simon Cole through HSI.

Media planning is by Naked while buying is handled by OMD.