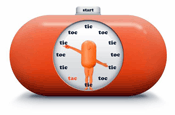 The tic tac clock features one of the tic tac men which have appeared in previous TV campaigns.

His arms take the place of the clock hands, and when they have stopped moving, the user is shown a video.

The site also features a documentary which shows how the first clock came into being.

It also asks for users to upload their own video clips.

The site can be viewed at tictoctictacclock.