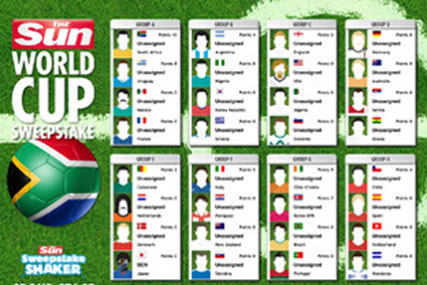 It allows your friends to shake the phone to choose their team and have their picture taken in the correct team kit complete with an amusing national haircut. The app then keeps all the details and creates your very own sweepstake poster to print out and pin up.

Other features include personalised posters for the group, knockout and final stages of the tournament; plus a supporter's pack for every participant in a sweepstake, which can be sent by email.

The Sun Sweepstake Shaker also includes exclusive expert analysis from Sun columnists Harry Redknapp, Terry Venables and Ian Wright.
The app is available to download free at the iTunes store or via thesun.co.uk/sweepstake
It is set to be backed by a marketing campaign, including editorial support to reach The Sun's 8 million daily readers, integration with the 'Maybe, Just Maybe' football campaign run by the paper, online editorial, banners and MPUs.
The Sun currently charges £2.39 for its main World Cup app.
The World Cup 'Sweepstake Shaker' follows on from a similar app released by The Sun in April to take advantage of Grand National fever.