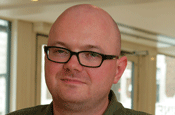 Palmer will take full responsibility for the planning department while working closely with Debbie Klein, the chief executive, Leon Jaume, the executive creative director, and Will Orr, the managing director, in running the agency.
The executive planning director role has been vacant since April 2005 when Klein was promoted to chief executive.
The agency has taken the decision to fill the role following a period of consistent growth that ended in it picking up the £75 million Sky business at the end of 2006.
Klein says: "We've always had a good planning heritage but we need to make that better and Matthew is the man to do this. It's not that there has been a massive gap in the department, but we're expanding so quickly that we need a figurehead who can meet clients, push the department and become part of the management team."
Palmer said: "WCRS has a fantastic planning heritage and I'm excited about building on that."
He began his career in 1994 with BDH Manchester before moving South to join Palmer Clemmow Johnson, where he was the lead planner on the pan-European Sony PlayStation business.
He worked there until 1998 when he joined Bartle Bogle Hegarty, where he spent eight years working as the head planner on accounts including Sony Ericsson, Birdseye and Smirnoff Ice. He joined Saatchi & Saatchi in 2006.