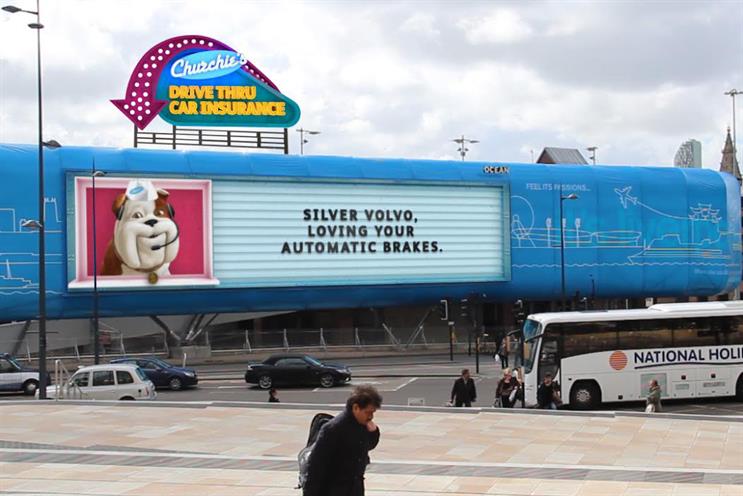 The results were announced to a 500-strong audience at London's IMAX this morning.
The digital out-of-home ads will now be developed and share in a £650,000 prize pot to fund their appearance on Ocean screens in the UK and in New York and Hong Kong over the next 12 months.
First prize in the Creative Techniques UK category was awarded to WCRS' campaign for Churchill. "Churchie's Drive-Thru Car Insurance" uses Ocean's vehicle recognition technology to allow "Churchie" to serve passing drivers with cheeky, personalised messages about their cars, as if from a retro American drive-through diner's serving hatch. The aim is to reflect the brand's fast, dependable service, with a cheeky twist.
An interactive robot that conducts dunking experiments to discover what biscuit has the most staying power is at the centre of Kinetic Active's campaign for McVitie's, which triumphed in the Interactive UK section.
The public control D.U.N.C.A.N. (above) with an iPhone or iPad, to choose which biscuit to dunk. The player with the highest dunk record will win a year's supply of their best biscuit.
Two international prizes were awarded for the first time this year. 18 Feet and Rising's idea to mobilise support to stop the slaughter of African elephants for their ivory trampled on the competition to take the Creative Techniques prize for Space for Giants.
In "March for Giants", the public and companies are invited to generate personalised baby elephants and branded adult ones, respectively, who will join a virtual march across out-of-home screens internationally.
The international prize in Interactive was plucked by a game featuring people pulling Excalibur from the stone by Kinetic Active to mark the release of client Warner Brothers' film King Arthur by Guy Richie. Both international winning campaigns will run across screens in London, New York and Hong Kong.
Runners-up were:
Creative Techniques UK second prize - WCRS' "Free me from this poster" for the Born Free Foundation

Creative Techniques UK third prize - the7stars' "Magic, bringing guilt-free happiness to life" for Bauer Media

Interactive UK second prize - WCRS' "Save the Bees" for the Bumblebee Conservation Trust

Interactive UK third prize - 23red's "One You Active 10" for Public Health England.
The seventh annual contest drew a record number of 81 entries. Claire Beale, Campaign's global editor-in-chief and one of the judges, said: "Plenty of the entries into this year's awards demonstrated a real understanding of the potential for digital out-of-home screens to be the screens of the future, using technology to help engage our emotions on a new level and tell stories in ways that would simply have been unthinkable in the era of bucket and paste posters.
"For all of those reasons, judging the submissions this year was a genuinely exciting experience. Many congratulations to the visionary winners."
Ocean chief executive Tim Bleakley said the "growth of entry numbers and the scale of the ideas reflect the pace at which digital out-of-home is evolving as a medium of stature and impact."
Previous winning campaigns include WCRS' "Look at me" ad for Women's Aid and MicroLoans "Pennies for Life", which both generated global PR and went on to win Cannes Lions.
For more on the 2016 winning campaigns, see Campaign's 21 October issue and visit oceanoutdoor.com.