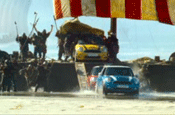 The TV spot shows a dull day on a crowded beach, which is then invaded by a fleet of marauding Vikings driving Minis.

The ad promotes a campaign website encouraging visitors to nominate and obliterate the boring things in their lives.

Ysabel Vazquez, national communications manager at Mini, said: "The campaign is designed to show Minis as an irrepressible force of dynamism, cheekiness and attitude."

The website will also be supported by digital advertising bought by Zed Media.

Posters will also appear throughout the UK in sites sourced by Posterscope.