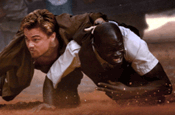 The win will strengthen WCRS's position on the Sky roster, which it joined in December 2006, after landing the £75 million corporate branding account following a contest against Grey.

There is currently no incumbent agency on the Sky Movies business.

The TV network has chosen instead to appoint agencies from its roster on a project-by-project basis.

The Red Brick Road was appointed to handle advertising for the Sky Networks channels, which include Sky One, Sky Two, Sky News and Sky Box Office, in July last year.

It is now only retained on the Sky One account.

Last year, WCRS produced a one-off ad reminding consumers that Sky's movie channels do not run ads during films.

The 60-second commercial, which formed part of WCRS's "Believe in better" brand campaign, featured shots of empty billboard sites and secured the agency a nomination in the film category at the 2008 Cannes Lions.

The most recent ads for the Sky Movies brand, including "clocks", which promoted its on-demand movies, and "arrows", which highlighted how much easier it was to navigate its genre-based channels, were produced by Sky's in-house creative agency.