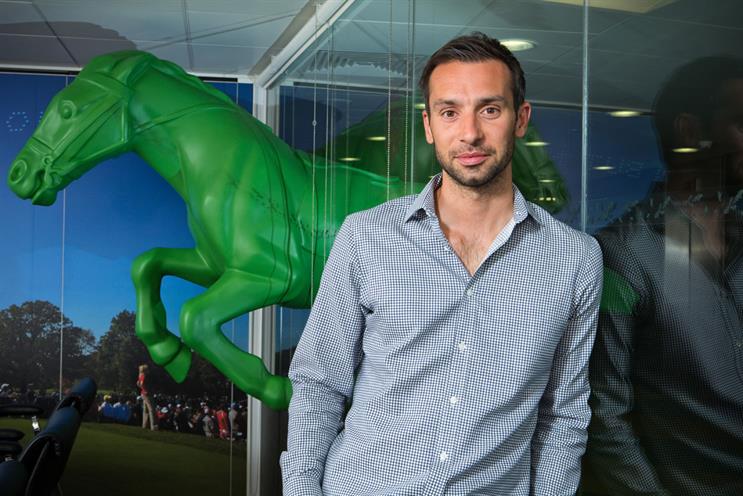 You might be surprised to learn that Christian Woolfenden's gambling doesn't extend much beyond an occasional flutter on the horses at Goodwood. Nor, it seems, does he get his tips straight from the horse's mouth. This, after all, is a man who backed the self-destructing Brazil to win the World Cup. "I'm just like most punters," Paddy Power's global marketing director confesses. "I only spend what I can afford to lose."
No such reticence, however, in the way Paddy Power and Woolfenden go about their business. More a swashbuckling irreverence that has enabled the betting and gaming operator to defy what once looked like overwhelming odds against it.
From a time in 1988 when Paddy Power was born out of a merger between three Irish bookmakers, the one-time upstarts have successfully been carrying the fight to their British rivals' home turf since their UK debut in 2001.
While Ladbrokes saw its pre-tax profits for 2013 tumble 66 per cent, owing to the costs of upgrading its digital offering, Paddy Power has been reaping the rewards of an unpretentious, pioneering and consumer-centric online strategy. With some rivals outspending it by two or three times, Paddy Power's profits last year rose to a record £116 million. And this in a market that is highly commoditised.
So what's the secret? Loving your punters is at the heart of it all, Woolfenden claims. And if you don't believe him, try talking to the customer service departments of some of Paddy Power's rivals and discover what a joyless ex­perience it is, he adds.
Paddy Power works relentlessly at communicating with young tech-savvy gamblers who are its core business. With that in mind, it was the first company of its kind to introduce a mobile app by a significant margin and, according to Woolfenden, always uses the latest kit in its app technology. Indeed, Paddy Power predicts that 90 per cent of its business growth will come from mobile.
What's more, the company was an early adopter of not only shouting loudly but of also being quick and nimble in the use of breaking news stories to generate debate among punters as well as some good PR. "If we can do something for £20,000 that will work as effectively as a campaign costing £1 million, that's what we'll always try to do," Woolfenden says.
It all means considerable pressure on Paddy Power's creative agencies, Crispin Porter & Bogusky, which handles the everyday work, and Lucky Generals, which looks after special projects. However, a lot of the marketing spend – almost £20 million and rising – goes through an in-house team that embraces print, outdoor, social media, PR and design.
Typical of Paddy Power's off-the-cuff approach was the response to Sir Alex Ferguson quitting as Manchester United's manager. By 10am on the day the news broke, it had a poster showing lines drawn through the names "Maggie" and "Fergie". The final "wish" read: "Liverpool to win the league 25-1." The ad's headline declared: "Some Scouser has one wish left…"
By 10.30am, M2M, Paddy Power's media agency, had loaded it on to a digital billboard at Liverpool Lime Street station and images were on their way to national newspaper picture desks. The London Evening Standard was already running with the story at 4pm when authorities ordered that the "offensive" poster be removed. "If we'd done that the following day, it wouldn't have touched the sides," Woolfenden insists.
Of course, such a strategy involves the perpetual risk of clashes with the Advertising Standards Authority. In March, the ASA ordered Paddy Power to withdraw its Oscar Pistorius ads offering "money back if he walks", which attracted more than 5,000 complaints in 24 hours.
Woolfenden acknowledges that such reactions go with the territory, but claims: "We really didn't expect the backlash that the campaign created. Our rule of thumb is that what we do has to be entertaining for our customers."
However, he suggests Paddy Power's relationship with the ASA and Clearcast is not what it's made out to be. "It's much better than you might think," he says. "We have an ongoing dialogue with them. We respect what they do and they understand that we're not deliberately setting out to make trouble."
Indeed, with Paddy Power recently launching a follow-up to last season's campaign with Stonewall to stamp out homophobia in football, it is trying to be a force for good.
Meanwhile, there's businesses to be developed in Australia and Italy – both markets are highly compatible with the Paddy Power culture, according to Woolfenden – as well as maintaining the freshness of a campaign that must never become tedious or gratuitously offensive.
Woolfenden suggests the constantly changing news on which the work is based – plus the quirkiness of the brand – makes freshness easier to sustain: "I can't imagine you could do it with toilet paper."