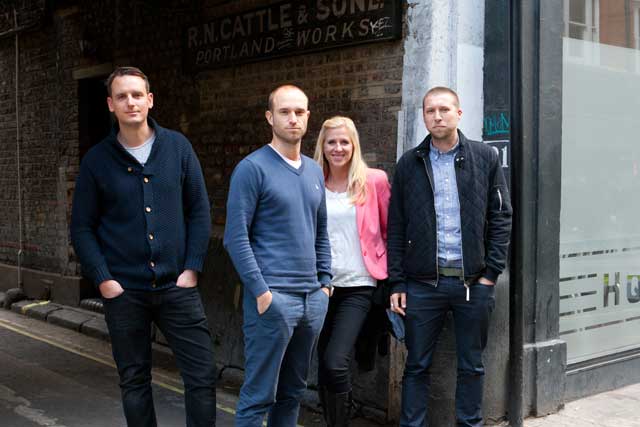 Two of the co-founders of the Rainey Kelly Campbell Roalfe/Y&R digital shop Saint, Simon Labbett and David Gamble, have just launched their own agency called Hometown. Backed by the branding agency StartJG, the other managing partners are Chris Jefford and Helen Kimber. We asked them to explain the rationale behind the agency.
- Why launch now?
Why not? We love the chaos in the industry right now. There is a real undercurrent of uncertainty in London that is forcing the industry to be more diverse and creative. It's the perfect time to start something new. We're a small, lean start-up, which means we can be fluid and quick to react. Our relationship with StartJG also gives us instant access to some exciting emerging markets in the Middle East and Far East.
- But don't you think the agency market is overpopulated?
To some degree, yes, but then that will always be the case. We think we can carve out a name for ourselves, even among the plethora of competition. We have some incredibly creative and effective case studies under our belts, so we're pretty confident we can build a solid reputation based on the work we do. Let's just say our growth strategy is organic, not artificial.
- What's your point of difference?
Interesting question, and one we've discussed a fair bit. The irony is, the more you try to articulate your difference, the more you sound like everybody else.
The fact we have nearly two decades of above-the-line and digital experience is definitely a point of difference, but being different does not equate to being great. It's for that reason we're not setting out to be different, but to be exciting. Just being different for the sake of being different isn't motivating - it leads to confusion and empty rhetoric.
An exciting agency will stimulate staff, clients and, ultimately, consumers - through the work you produce. If getting to that means we have to create new roles and innovate our processes, then that will be the thing that sets us apart.
- What does the involvement of StartJG give you?
Our relationship with StartJG puts us in the enviable position of being instantly surrounded by a bunch of smart, creative people who look at the world in a way that challenges our advertising beliefs.
As a new agency group, we've got a brilliant opportunity to approach briefs in a fresh way for clients, and having a bunch of "unconventional" creative thinkers just along the corridor is fantastic for us. It immediately puts us in an interesting space, surrounded by product designers, experiential architects, researchers and branding specialists; it makes for an insanely creative environment.
- What are your long- and short-term aims for the agency?
In terms of our structure, culture or output, we can't sit here and tell you what Hometown will be in five years' time - we hope it never stops reinventing and disrupting itself.
In the short term, our focus is on finding and working with the right clients. Our founding clients will, to a great extent, set the tone for the agency going forward, and we want to make sure we get that right, that their ambitions match our own. We're a straightforward, honest bunch of people dedicated to doing brilliant work - our proposition is pretty simple.
Long term, commercially, we all want to have a successful business that clients love engaging with and that people love working for. The culture we created at Saint was special; it left an indelible impression on everybody who worked there. But we'll fail if we try to replicate that. We'll run the business the right way, and the culture will follow.
- Give us an outline of your agency model?
Any good business starts with a philosophy first, and that slowly becomes a model over time. Our philosophy is rooted in each and every one of us wanting to work at the most exciting agency in town. Quite simply, Hometown is structured to get the best work out of the people who work here.
We also believe in the power of naivety to uncover truths about a business - we're promising our clients that we'll ask a whole host of stupid questions at the start of our relationship, like the kid who always asks: "Why?" When we worked on the "Can you draw the internet?" project at Saint, we got a glimpse of how a bunch of nine-year-old kids approach creativity - we learnt a lot from them!
- Are you targeting any particular type of client?
As a group, we've got experience that spans most sectors, so there's no particular category that we're focusing on. But if truth be told, the "type" of clients that we would love to work with are those who believe in delivering transformational change within their business through the application of creative ideas. Modern advertising should make a business better rather than be something on the periphery. We'd love to work with clients who understand that.
- How do you answer those critics who say that you are just going to be digitally focused?
To say we're digitally focused wouldn't be a criticism. The world is digitally focused. We believe running one of the UK's most successful digital agencies in the past is a positive, not a negative. We've worked in digital and above the line for nearly two decades, creating more than 40 TV ads and brand campaigns for some of the world's best-loved brands. It's about ideas, not channels.
"Digital" is an integral part of nearly everything we do. People don't pick up their iPhones and say "I'm going to be digital now", they just do the stuff that they enjoy and is relevant to their lives. Their behavior affects brands in different ways. We have the opportunity to create a new agency that understands these changes to solve our clients' problems.
- What's the story about the name?
In short, we liked it. How we got to it? Well, we wanted to build an agency with a strong sense of community. Everyone who works with Hometown should feel like they are helping to create the brand. That goes for employees, clients and anyone we collaborate with. A town is nothing without its people, and the same goes for any company. We want to make people feel part of something exciting.
- How will you judge if you have been a success?
If we have built a creative community of people that love working together and have produced amazing work that transforms businesses and is culturally important, we can be happy that things have gone to plan.
Alternatively, if we float past you at Cannes on a yacht clutching a few Lions, then we'll presume things have gone OK; if we're asking to crash on your sofa, then not so much.