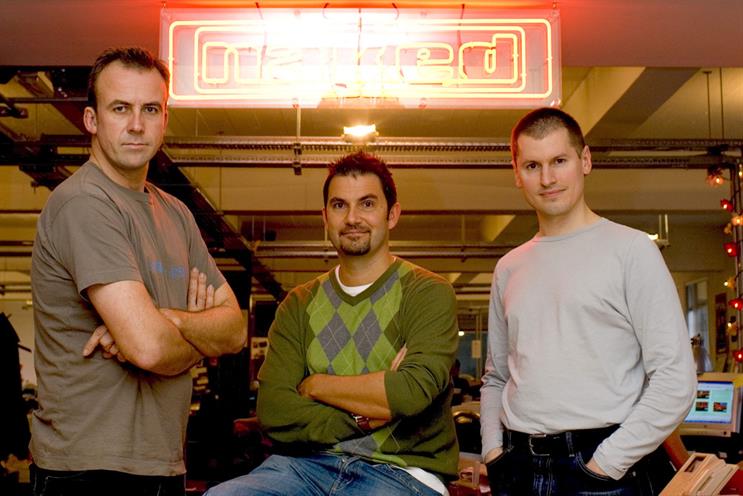 I first met John at New PHD after the merger of Abbott Mead Vickers with PHD. He instantly stood out as supremely charismatic and talented, with an incredible love of creativity and ideas.
While at PHD, myself and Jonathan Durden, recognising his maverick talent, put him in charge of Rocket. It went from being a "clash" shop to a hotshop. He got a band of evangelists around him, did crazy things and amazing work, and was obsessed with building a pod for brainstorming on the top floor of PHD's building. It was a circular think-tank with artificial grass banks – a builder's nightmare and a planning-permission disaster. Once it was built, we realised it could have crashed through the floors of the building, destroying all within.
John kept telling me we should start what became Naked. He was extremely edgy and I was drawn to that. We rounded each other out and, most importantly, we had such a laugh – often, and I mean often, ending up crying with laughter as we messed around with ideas, music, jokes, taking the piss etc.
I made my wife meet John before launching Naked as I wanted to make sure she was happy with me going into business with one of the "crazy ones". We completed the alchemy by bringing in our own straight man (well, not that straight), Will Collin.
I remember one hilarious day in Brighton when we challenged ourselves to write our three-year business plan. We had no idea what we were doing, but everyone told us we needed one! We ended up spending the day thinking of agency names. Naked was among the contenders, but others were Monkeymen and Stupid Media – it was all about quantity, not quality. I wish I still had all the scraps of paper we scribbled on that day while generating ideas, fuelled by Heineken.
We really didn't care too much about success; we just wanted to change the industry
Anyway, Naked was born, and our friendship and partnership strengthened. We cared so much, we were so proud and so determined to leave our mark.
We really didn't care too much about success; we just wanted to change the industry, highlight the injustice, shine a light on the bias and stupidity, set fire to the blandness of it all and be the true agitant of the advertising market. We always talked with pride at how we made everyone and every agency change – initially locally, but eventually globally. We were the punks of the agency world, but we infiltrated every corner of the industry and made it better for everyone.
After our fourth year in a row as "agency of the year", a very drunken Naked crew climbed the podium to resounding "boos". Our personal assistant at the time bared her breasts to the crowd – we didn't give a f**k, we were Millwall and we didn't care. John epitomised this confidence and swagger.
Many fell under John's spell and charms: clients, creatives, staff – even journalists – and we spread the word globally.
John always played at the outer limits of what was humanly possible, in business creativity and in life. I was always worried that he played so hard, it might eventually hurt him.
It gave me no pleasure to see that, in the end, his dynamism and hedonism eventually took him to his next life – his "early retirement" in the sky. Knowing John, he will have already found Amy Winehouse, Marc Bolan and Otis Redding and convinced them to start a new band gigging around the stellar system, with John on synths – launching a new brand of celestial punk rock on to the universe.

Jon Wilkins is the founder and chairman of Naked Communications