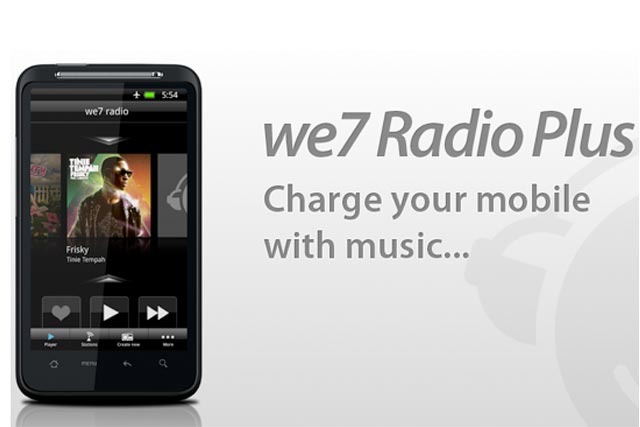 The We7 Radio App uses buffering and caching technology when online, which lets users stream radio from their favourite stations to their mobile and listen to them offline.
The free ad-funded app will be available in beta from this month for Android devices. We7 has not disclosed the name of any advertisers using the service.
We7 is also offering an ad-free subscription version of the app for £9.99 a month, which allows users to listen to their favourite tracks on demand.
It plans to roll out the app to the Apple iPhone, iPad and iTouch in April, and Windows 7 and BlackBerry devices later in the year.
We7 was founded in 2006 and is backed by Genesis frontman Peter Gabriel.
The new app does not eat into data allowances and capitalises on the trend, identified by the brand, of mobile handsets becoming the most popular platform for listening to the radio.
Steve Purdham, chief executive of We7, said: "Mobile signals are unreliable for radio streaming, but with the new We7 app, you can still continue to listen to your favourite music radio stations, regardless of connection."
We7, which competes with Spotify and Last.fm, claims to have three million monthly users in the UK and a catalogue of seven million tracks. It rolled out to Ireland in January as part of plans to expand across Europe.
Last month, Last.fm, the CBS owned digital music service, started charging for its mobile radio apps. It said delivering the radio service for free was "not practical".