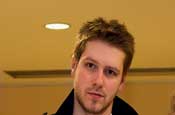 Howlett will take a seat on the Weapon7 board and be responsible for the creative output of the agency, working closely with the planning director, Mark Brown,.
This is Howlett's first role in interactive TV advertising.
He said: "We're at the point where people won't be shouted at. Posters are invisible to us, TV ads can be ignored and pop-ups are closed without a second thought.
"The on-demand generation would much rather find things out for themselves."
Steven Hess, a managing partner at Weapon7, said: "There are few creatives who have his experience, openness and skill in working with big interactive ideas."