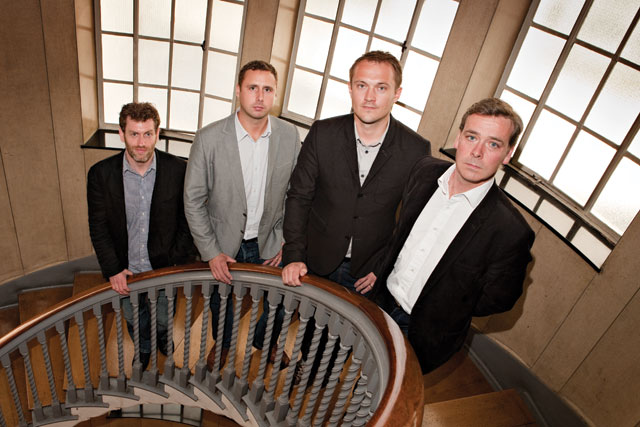 Weapon7 was founded in a living room nine years ago. And today there remains a pseudo-living room, complete with widescreen telly and sofa, in the agency's Tottenham Court Road offices to remind them all of its humble beginnings.
"We're like a little family," Jeremy Garner, the digital shop's creative director, says. But now this little family has gone into business with some very rich and powerful relatives, namely Abbott Mead Vickers BBDO, it may need more than a fake living room to stay grounded.
Weapon7, formerly owned by Diversified Agency Services, a division of Omnicom, was realigned to its big sister, AMV BBDO, earlier this month. The terms of the financial exchange that took place between AMV BBDO and DAS were undisclosed, but the move has been hailed as a positive one for both sides.
The deal represents a new strategy for AMV BBDO. The agency has bolstered its digital offering of late, with hirings such as Thiago de Moraes as its creative partner. Now, rather than integrate a smaller digital shop into the mother ship (as some rivals have done), Weapon7 remains a separate agency with its own identity. Is this the way forward for big advertising agencies looking to diversify?
"It all depends on how well they make it work," one observer says. "But no-one ever made any money betting against AMV BBDO."
For Weapon7, which now has the opportunity to tap into the might and expertise of the biggest advertising agency in town, the benefits are obvious. But the basis of AMV BBDO's attraction to Weapon7 - not quite a trailblazing hotshop these days - may not be as immediately apparent.
The fact that both agencies share Mercedes-Benz as a client is clearly a determining factor. And Weapon7, though fairly low profile, has grown steadily since its launch. Indeed, this growth prompted Omnicom to shell out an estimated £10 million for it five years ago.
Weapon7, which has operated with a seven-strong management team, including the head of planning Dan Bowers, doubled its headcount (to around 55) in the past three years against the backdrop of a recession. The agency's clients include DHL, The Natural Confectionery Company and Ubisoft, and it has been recognised for its innovation and creativity, including receiving a Bafta nomination for the world's first interactive music video (for EMI) in 2002.
AMV BBDO's bulging client list doesn't leave much to chase in the new-business market, so perhaps snapping up a new company is a logical move. But Farah Ramzan Golant, the executive chairman of AMV BBDO and the architect of the deal, is keen to stress that this is not the start of a buying spree: "This was a very carefully thought-out investment based on who Weapon7 are. I don't do sprees."
Ramzan Golant views Weapon7 as a "fantastic growth opportunity". To spur this growth, she is bringing in Adam Graham, the former managing partner of Saint, as Weapon7's new chief executive, reporting to her.
As Graham's former home was within the auspices of Rainey Kelly Campbell Roalfe/Y&R, he is experienced in negotiating with a larger agency. Ramzan Golant is encouraging him to exert his independence, however: "I want him to feel free to structure, plan, collaborate and get support from me."
Graham, who helped launch Saint four years ago, aims to bring in new business and says he wants to make Weapon7 a "bit more famous". He also has plans to diversify its revenue stream with shared intellectual property projects. But he is determined to keep the spirit of the place intact: "I'm a believer in: 'if it ain't broke, don't fix it'."
The Weapon7 old guard, including the founder and former chief executive Steven Hess, now find themselves looking to a new era. The AMV BBDO deal and Graham's arrival coincides with the three partners (Hess, the strategy director Mark Brown, and the non-executive director Giles Clark) getting their earn-outs. Hess, who is taking the role of chairman, asserts that the agency is poised for the "next chapter of the journey", and feels that Graham will bring "invigoration and excitement" to the business. "My role is to support Adam and act as a touchpoint within the agency for him," Hess says.
Garner also maintains that change is something Weapon7 thrives on. The structure at the agency is open and not siloed, he says, adding: "We're very collaborative as an agency. Working with AMV BBDO will allow us to do this on a bigger scale."
Weapon7 has put in an impressive performance over the years and set a high creative standard but, as one agency chief executive notes: "It hasn't blown the doors off." Now, with the support of AMV BBDO, it may finally be time for Weapon7 to detonate.