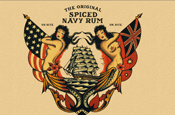 The agency will take responsibility for producing the communications strategy and creative development of a new integrated campaign for Sailor Jerry rum, set to break in the spring.

The rum brand, named after the legendary tattoo artist Norman 'Sailor Jerry' Collins, launched in the US in 2000 and was later rolled out across the UK market in 2004.

Kathy Roe, the senior brand manager for Sailor Jerry, said: "With its ongoing growth within the rum category we are keen to support Sailor Jerry and establish it as a key brand within our portfolio over the next five years. Weapon7 demonstrated a strong strategic understanding of the market, the brand and the consumer, making them an ideal partner for First Drinks."