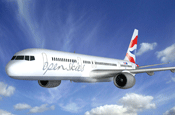 The venture, wholly-owned by BA, is seeking regulatory approval to launch transatlantic flights this summer.

The Web Liquid campaign will use digital marketing techniques including social media and behavioural targeting.

Matt Cronin, Web Liquid co-founder, said: "We're delighted to be a part of OpenSkies' vision of creating a better transatlantic travel experience.

"OpenSkies plans to roll out as a small airline with big ideas about changing the way people travel and we are focused on helping them communicate their vision."

OpenSkies Web site, www.flyopenskies.com, is designed to share the excitement of building an airline.