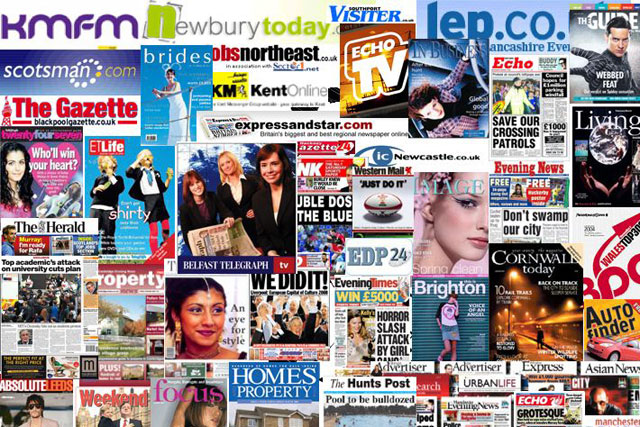 Bad news: regional newspaper circulations are continuing to decline - and the latest Audit Bureau of Circulations figures reveal some mind-numbing double-digit declines. The Nottingham Post fell by 16.9 per cent to 35,361, for instance; and the Yorkshire Evening Post was down 14.6 per cent to 36,512.
Good news: the major regional groups all recorded unprecedented gains in online traffic. Across Trinity Mirror's nationwide network of regional sites, activity was up by 54.7 per cent year on year; the equivalent figure for Newsquest's sites was 31.7 per cent year on year; while Northcliffe Media, which owns the This is ... network, posted a 29 per cent increase.
Bad news: publishers find it terribly hard to make money out of online media. In fact, each page impression tends to represent a net (no pun intended) overhead.
Good news: ... er ... at least it's not all bad news.
Internet utopians were, by and large, shaken out of the market during the downturn - but it's still possible to come across people who believe that decent online audience figures will eventually translate into increased online advertising revenues. Unfortunately, in a world dominated by the automated trading of digital ad networks, plugged into the major portals, the arithmetic is rather cruel - even big increases in traffic at relatively small sites don't translate into much of an increase in share. In fact, the figure is so small that it is, in effect, zero.
The regionals have shown no real determination as yet to explore the potential of subscriptions or micropayments. So, arguably, they will have their work cut out to make the most of these recent online gains. But this is not beyond the bounds of probability - and an increased focus on forms of cross-platform sell is one apparent possibility, especially as it appears that the online product is bringing in a new, incremental audience.
Absolutely, Georgina Harvey, the managing director of Trinity Mirror Regionals, agrees. She points out that, in the past year, the company's digital growth means it now reaches an audience of more than nine million. She comments: "This has been driven by the delivery of quality content across our key areas of local news, local information and football. We continue to increase audience engagement across our sites through live blogs, social media and crowdsourcing."
That's all very well, Jason Dormieux, the chief operating officer of MEC Interaction, responds. The trick now is to sell that audience. He says: "It depends on how regional media owners present these numbers. There are certain situations where they won't really be able to compete with the likes of MSN and Yahoo!. So it's up to regional media owners to dial up the value of reaching people in the environments they offer - and there will always be campaigns where that will have a part to play, especially if there is a regional aspect to the message. And with IP-targeting becoming more common, regionality is already on the agenda in digital media."
Yes, Robert Ray, the marketing director at the Newspaper Society, says - and regional media owners are well aware of that. He's very upbeat about the figures: "There's every indication that people are more attached to their local communities than they've ever been - and we're seeing evidence of that in an increased appetite for local media. There are 1,600 regional press websites, for instance - and their combined audience (42 million unique users a month) is huge. That online audience represents 14 per cent unduplicated reach."
Deriving increased online revenue streams won't be easy, Ray concedes - but having decent numbers is a good start point.
John Prentice, the head of regional media at PHD, tends to concur - and he points out that regional sales houses are getting better at selling online audiences. He concludes: "There's certainly more of a focus on it. There are the classified platforms - motors, property, jobs. There are local display revenues and there are the bigger digital display ad network sales.
"It's true that when your inventory is traded on networks, you're trading alongside the likes of the big portals, so there's little scope for attracting any form of premium. But there's potential for more of a cross-sell across print and online if media owners can find ways to engage buyers. It's possible to envisage new revenue streams. But whether digital will ever represent a large percentage of total revenues is another question. Regional media owners have a long way to go to make up the decline in print revenues they've been experiencing in recent years."
YES - GEORGINA HARVEY, MANAGING DIRECTOR, TRINITY MIRROR REGIONALS
"Our online network complements our newspaper portfolio by extending our reach to new audiences that are attractive to advertisers."
MAYBE - JASON DORMIEUX, CHIEF OPERATING OFFICER, MEC INTERACTION
"It's not enough merely for regional media owners to talk about the numbers they have. They have to dial up the value of the audience that represents. The challenge is to make a big play on the contextual element."
YES - ROBERT RAY, MARKETING DIRECTOR, NEWSPAPER SOCIETY
"Of course it's true that the big question is whether this can be monetised. There are lots of models being looked at - but when you have a good-sized audience, that's a strong place to start from."
MAYBE - JOHN PRENTICE, HEAD OF REGIONAL MEDIA, PHD
"The combination of paper and website can add up to a dominant voice in an area, particularly as the online audience is an incremental audience. So there are new revenue streams. But I don't believe that will replace what has been lost."
Got a view? E-mail us at campaign@haymarket.com.