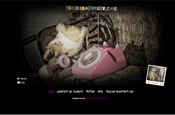 With just 8 per cent of mysinglefriend.com's members looking forward to "V-Day" this weekend, the new website, thebeargetsit.com, aims to rally all of those single people who want to reclaim Valentines Day by asking them to sign a petition.

The fate of the bear, whose bound and gagged image forms the background of the site, rests on enough people signing the petition, and Valentines Day being returned to what mysinglefriend.com believes to be its rightful owners; single people.

The site also provides a forum to expose over-sentimental Valentine's paraphernalia, entitled the "cemetery of schmaltz", as well as a voting poll on "the most offensively schmaltzy film".