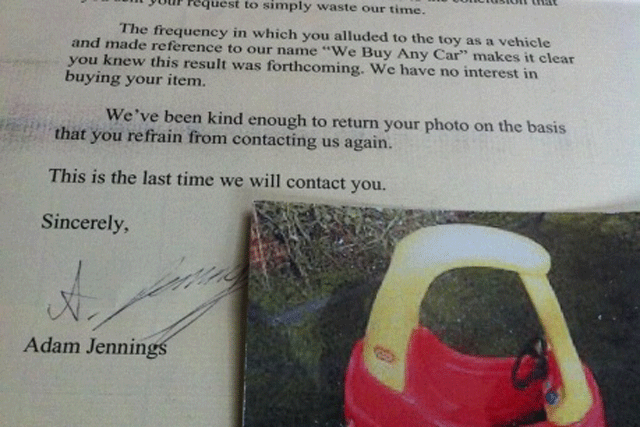 Twitter user @Jamie DMJ tweeted a fake letter from the website refusing to buy a child's plastic car and it was retweeted 26,000 times.
Democracy PR handled the response, which has seen the creation of the new website offering to buy the first 100 Little Tikes children's cars offered by the end of October and an accompanying Vine.
The company will donate £10 for each car to road safety charity Brake.
WebuyanyTOYcar.com is also recruiting a junior vehicle purchaser to head its new Tike division. The recruitment ad reads: "This is a perfect job for someone who knows their way around the playground and is experienced in playing with or riding toy cars. Hours: Monday - Wednesday (after school)."
A webuyanycar.com spokesman said: "We loved the hoax letter thought up by @JamieDMJ. It gave us a giggle and the engagement on Twitter has been great fun."
The current scheme only applies to Little Tikes cars, but the company said it hopes to roll out a further service covering other toy cars in the future.
This article was first published on PR Week