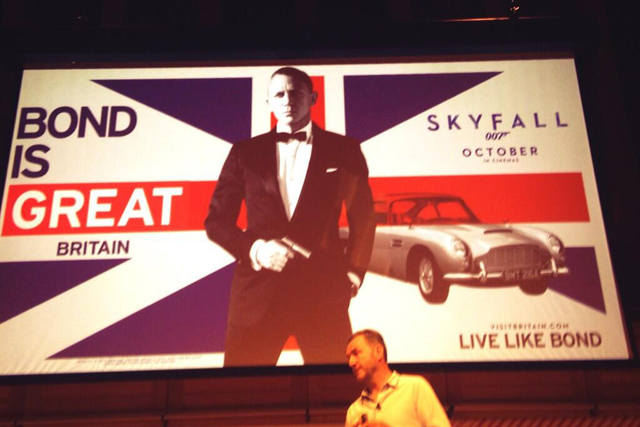 It looks as though the weekend came early for Neil Simpson and Nicky Russell at The Corner in this snap of them having a giggle in their Soho office. Wonder what the joke was?
@commsking @nickynokeynoo do you have that Friday feeling? #shits&giggles pic.twitter.com/ocj9yi6E7i

— The Corner (@thecornerLDN) January 31, 2014
Sometimes inspiration appears in the dreariest of places. Procurement consultant Tina Fegent points out that this brilliant announcement from Chiltern Railway takes a swipe at its competitor Virgin Trains.
Brilliant response from @chilternrailway to a competitors advertising at Marylebone. pic.twitter.com/ZmF4MNuA3D

— Tina Fegent (@tinafegent) January 29, 2014
Maxus's UK chief executive Linsday Pattison hails the fictional 007 agent James Bond at the Advertising Association's Lead 2014 conference. The summit looked at the upcoming general election and attendees chose between a session with a Labour, Conservative or Lib Dem MP in the middle of the day. The numbers of people in each could have been a straw poll of the industry...
#Lead2014 Live Like Bond! Sound advice..unlock Britain's potential with our amazing SMEs pic.twitter.com/YZWQW1UQM2

— Lindsay Pattison (@lindsaymaxus) January 30, 2014
---
If you have taken a picture you think we'd like, send it to louise.ridley@haymarket.com.