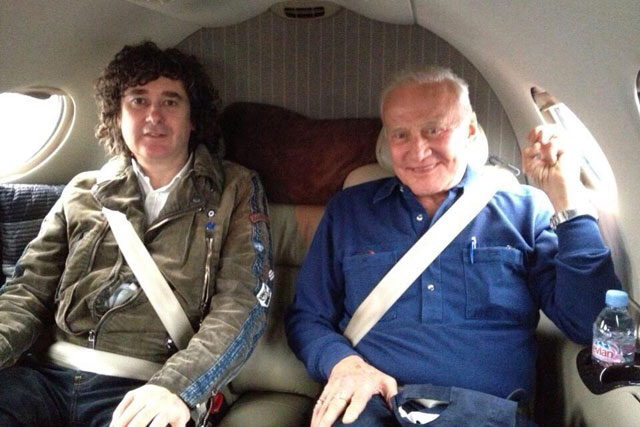 Yeah, sometimes our lives feel like a strangely-filled Pot Noodle as well. This appetizing image is from Tracey Follows of JWT, the brand-new chair of the APG. We're not sure what she's getting at, but we sense frustration. And perhaps hunger.
Sometimes working in advertising feels a bit like this... pic.twitter.com/nVpn8wU6iD

— tracey follows (@tracey_lou) January 24, 2014
BMB founder Trevor Beattie tweeted a picture of himself with Buzz Aldrin, taken last year, to celebrate the astronaut's birthday. Beattie is a space fanatic and thinks he may get there this year with Virgin Galactic.
Wishing you a Magnificent Birthday, @TheRealBuzz. pic.twitter.com/cPHjwondTI

— trevor beattie (@trevorbmbagency) January 20, 2014
We could all do with a little less bombast. Alex Balfour, chief digital officer of The Engine Group, admires the giant bird on Trafalgar Square's plinth.
On a grey day the blue cockerel on the 5th plinth is a lovely thing. A beacon for anti-bombast. Love london. pic.twitter.com/HzZ5qFx642

— Alex Balfour (@awbalfour) January 24, 2014
If you think it's chilly over here, check out NABS's tweet of ITV's commercial director Simon Daglish, who reached the South Pole at the end of December as part of the Walking with the Wounded expedition. The adventurers were welcomed back at a press conference this week.
Congrats to NABS trustee Simon Daglish who reached the S.Pole with @supportthewalk & unfurled a very large NABS flag! pic.twitter.com/SHUGGlDr1u

— NABS (@NABS_UK) January 21, 2014
Andrew Stephens, partner at Goodstuff, was struggling with a dilemma: can he pinch this lovely wooden block from Pret A Manger that just so happens to have Good Stuff written on it? Now that he's tweeted about his intentions, we think he'd best not – they'd know who the culprit was.
To steal or not to steal (for office use only). That is today's big moral dilemma. pic.twitter.com/jnNtG06hyl

— Andrew Stephens (@AS_Goodstuff) January 17, 2014
If you have taken a picture you think we'd like, send it to louise.ridley@haymarket.com.