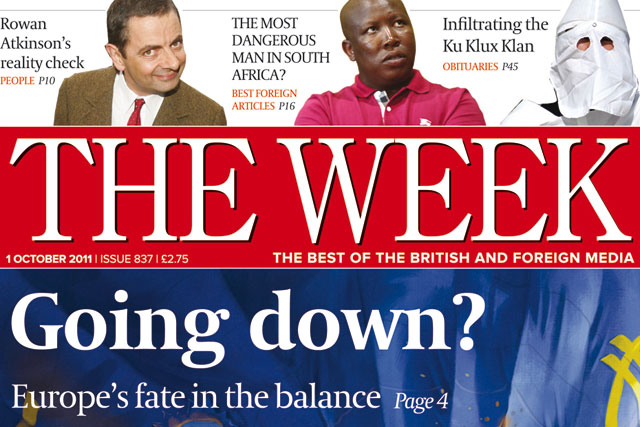 The Week was named Consumer Magazine of the Year while its chief executive, Kerin O'Connor, was awarded Publisher/Manager of the Year.
O'Connor said: "It's terrific to see The Week being recognised at the PPA Awards. We're very proud of the magazine's achievements over the years and with our successful digital launches last year we've entered a new stage in its development."
Stylist won Consumer Media Brand of the Year while its editor Lisa Smosarski was named Editor of the Year.
T3 was awarded International Consumer Magazine of the Year in addition to its digital prize.
Front Cover of the Year, which was voted on by the public, was awarded to UTV Media's Sport magazine for its cover featuring former footballer Paul Gascoigne.
The Sport cover received 5,782 out of a total of 37,798 votes, narrowly beating Stylist's Nigella Lawson cover.
The PPA Diversity Award, a new category highlighting efforts to represent a variety of body sizes and shapes, ages, sexualities and ethnicities, was won by IPC Media's Essentials.
The award was presented by equalities minister Lynne Featherstone, who said: "I am thrilled to present this very special award to Essentials magazine.
"By using real women on their covers instead of models and celebrities, they are an excellent example of a magazine promoting diversity of body image – a real issue that cannot be ignored."
Writer of The Year went to Will Self for his work in Hearst Magazine's Esquire, although Alex Bilmes, editor of Esquire, collected the award on his behalf.
The winners
Consumer Magazine of the Year
The Week, Dennis Publishing
Specialist Consumer Magazine of the Year
CBeebies Special Magazine, Immediate Media Co
International Consumer Magazine of the Year
T3, Future Publishing
The PPA Diversity Award – NEW AWARD
Winner: Essentials, IPC Media
Highly Commended: Psychologies, Hearst Magazines UK
Front Cover of the Year – NEW AWARD
Sport, The Gazza Cover, UTV Media
Digital Product of the Year (Consumer Media)
T3 Tablet Edition, Future Publishing
Digital/Data Product of the Year (Business Media)
TES.co.uk, TSL Education
Consumer Media Brand of the Year
Stylist, ShortList Media
Business Media Brand of the Year
Winner: Property Week, UBM Built Environment
Highly commended: Third Sector, Haymarket Business Media
Business Magazine of the Year
Times Educational Supplement, TSL Education
Customer Magazine of the Year
Winner: Live for IKEA Family, August Media
Highly commended: Business Strategy Review, Mosaic
Publisher/Manager of the Year (Consumer Media)
Winner: Kerin O'Connor, The Week, Dennis Publishing
Highly commended: Glenda Marchant, Stylist, ShortList Media
Publisher/Manager of the Year (Business Media)
Winner: Tim Brooke-Webb, The Publican's Morning Advertiser, William Reed Business Media
Highly commended: Shan Millie, Insurance Times, Newsquest Specialist Media
Publisher/Manager of the Year (Annual Turnover Under £10m)
Alex Martinez, Procurement Leaders, Sigaria
Editor of the Year (Consumer Media)
Lisa Smosarski, Stylist, ShortList Media
Editor of the Year (Business Media)
Winner: Emma Penny, Farmers Guardian, Briefing Media
Highly commended: Jane King, Farmers Weekly, Reed Business Information
Highly commended: Max Gosney, Works Management, Findlay Media
Writer of the Year (Consumer Media)
Will Self, Esquire, Hearst Magazines UK
Writer of the Year (Business Media)
Martin Hilditch, Inside Housing, Ocean Media Group
Columnist of the Year (Consumer Media)
Winner: Richard Morrison, BBC Music, Immediate Media
Highly Commended: Stuart Maconie, Country Walking, Bauer Media
Columnist of the Year (Business Media)
Dr Phil Peverley, Pulse, Briefing Media
Designer of the Year (Consumer Media)
Winner: Adrienne Pitts, Jamie Magazine, John Brown
Highly commended: Andrew Diprose, Wired, The Conde Nast Publications
Designer of the Year (Business Media)
Finnie Finn, I: Global Intelligence for the CIO, Redwood