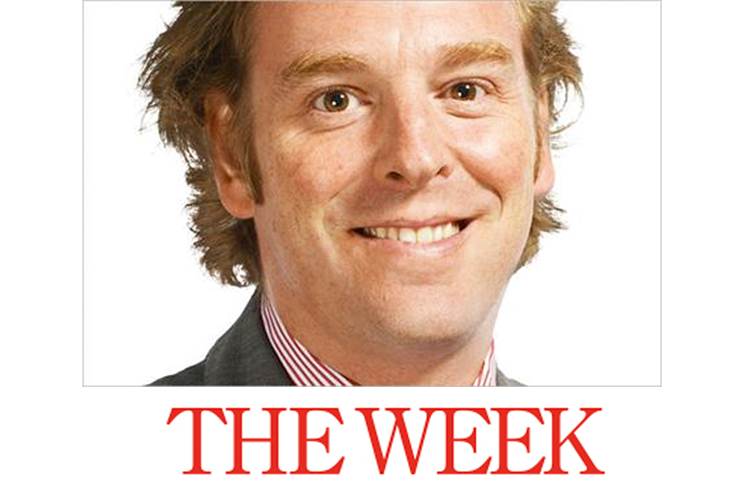 The Week appears to be a traditional magazine. It's full of words, pictures, thoughts and opinions printed on paper, that are accompanied by lots of lovely full-page advertising. It provides a welcome and unique complement to current affairs coverage. It does its job well and the publishing model works brilliantly.
The iPad, however, gave us pause for thought. How could we transfer the DNA of the magazine onto a new digital medium? So we wrote some new rules.
The first ones were about how the digital publication would work. We knew it had to work on any device, not just iPad, and it had to work upside down and sideways. Plus, it had to be easy-to-use and to download.
And customers would need just one code for multiple devices. We managed to do all of those things, and deliver a reading experience that was similar to the print title.
With all those changes, surely it was time to look at the business model too? We decided that this was a new venture; it was not an offshoot of the printed magazine.
Importantly, this meant anyone who wanted to read our digital publication had to pay – no freebies for print subscribers. And digital subscribers should pay a proper subscription rate too –content is what people buy, not the platform.
The digital publication offered a whole new outlook for advertisers and we were keen to explore this from the outset. Rolex have supported us since our 2011 launch with their integrated partnership of The Week's Daily Briefing.
We went even further and decided to sell advertising separately from the print magazine. This meant we didn't just run PDFs of the magazine's advertisers in static portrait format. That was boring and missed the point of these digital platforms. Advertising should be an interactive, exciting and different proposition from its print counterpart.
So we invested in a service to create advertising for our clients. This gave rise to the launch of Dennis Publishing's award-winning digital agency Adnostic. We have now worked with dozens of blue-chip clients like UBS, Audi, Barclays and American Airlines across devices and platforms.
After putting this strategy in place, we watched, waited, listened and improved our product. We saw our number of weekly user visits rise to just over 100,000 across all the devices and saw the iPhone usage shoot up and then bloom into new types of customer behaviour.
An interesting benchmark of success was how our renewal data and metrics showed the emergence of Superfans; people who fanatically read both print and digital versions. As we gathered pace, we expanded our offering on the platform. We launched our luxury lifestyle title The Quarterly into digital, with The Week Fashion to follow in September.
We are finally in a position to release ABC audited digital circulation data. The Week has a digital publication circulation of 26,283 subscribers and single-copy purchasers paying to read it each week.
In fact, that's slightly more subscribers than the print magazine back in 1997 had at the equivalent lifecycle three years after launch. It's worth saying that there are lots of other metrics that clients require of us, like interactions, views and opens, and of course we do our best to supply this data as much as technology will allow.
The most significant decision in the digital publication's evolution was a conscious choice not to bundle our digital readers in our print circulation (which continues to grow as well, I'm happy to report, with a 199,459 circulation).
By liberating its evolution, the digital publication is not contained by print metrics and bundled into old structures. The whole point of these new platforms is to try new business models and experiment, not be limited by the past – no matter how successful it has been.
Kerin O'Connor is chief executive of The Week