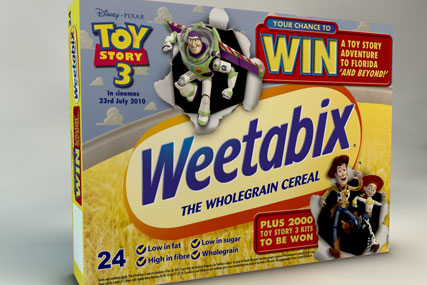 The campaign launches on 1 July, while the film rolls out on 23 July.

Activity includes a TV ad by WCRS, which features a darkened room that is gradually lit to reveal a small boy dressed in a home-made Buzz Lightyear costume. A voiceover then offers children the chance to "win a real 'Toy Story' adventure with Weetabix".

Media planning and buying has been handled by Walker Media.
Weetabix is also rolling out an on-pack promotion, devised by marketing communications agency Dialogue141, offering a range of prizes, including a family trip to Florida and other movie merchandise.

The 'Toy Story'-themed packaging will run across the Weetabix, Weetabix Minis, Oaty bars and Weetos brands.
Consumers can enter their promotional code on a dedicated microsite, www.weetabixtoystory.com.
Paul Goold, senior brand manager at Weetabix, said: "'Toy Story 3' is set to be massive and will have strong appeal to families, which makes it the perfect partner for Weetabix. The promotion and TV advertising will really capture the imagination of our consumers and help drive sales."