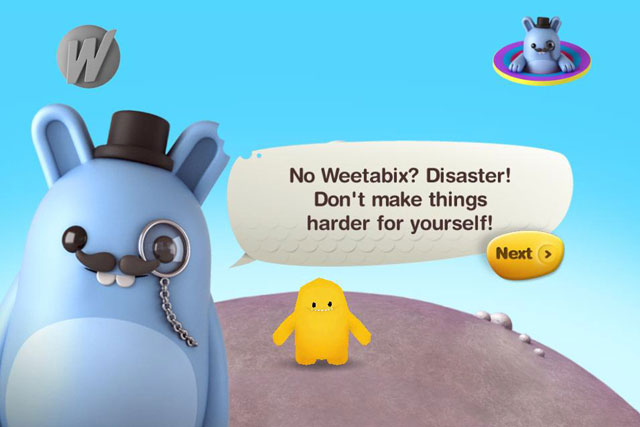 The row centred on a Weetabix–branded app that could be accessed via the cereal brand's homepage.
The Weetabix app, which used QR technology and was created by Bartle Bogle Hegarty, included two games in which players could control a character, called the WeetaKid, to collect items to populate Weetakid's "world".
A character in the game issued messages to players such as " No Weetabix? Disaster! Don't make things harder for yourself!", and "You're not eating your Weetabix? What about the extra energy? Oh good heavens!"
The Advertising Standards Authority (ASA) was hit by complaints, including representations from the Family and Parenting Institute, which questioned the morality of the advergame.
The complaints challenged Weetabix on five separate issues: whether it exploited the credulity, loyalty, vulnerability of children by making them feel inferior or unpopular for not buying a product; that it included a plea to children to buy an advertised product; that the games were identifiable as marketing communications, and that the games advertised as a product, Weetos Bars, which could be classified as a product as a high in fat, salt or sugar and thus encouraged poor nutritional habits.
In its defence, Weetabix said it had purposefully designed the app so that it could be played without purchasing the product. It also said the game was played in an "imaginary" and "fantastical" world, and so the impact of words and phrases used in the game should be viewed in that context.
The cereal brand acknowledged it was possible that messages and actions in the game might impact on children's food preferences, but said that that in itself did not constitute a breach of the CAP Code.
However, in its ruling, the ASA said it disagreed with Weetabix and that the game blurred the lines between the fantastical and real world. It also ruled that the language in the game could mean that children thought they were failing if they did not eat Weetabix.
The advertising watchdog said that although Weetabix had not broken any rules on three out of the four issues that had been complained about, it ruled that it exploited the credulity, loyalty of children by making them feel inferior or unpopular for not buying a product.
It banned the Weetabix ad, adding that, "We told Weetabix to ensure that their marketing communications that were directly targeted at children did not exploit their credulity or vulnerability, or make them feel inferior if they did not buy or ask their parents to buy, Weetabix's products."