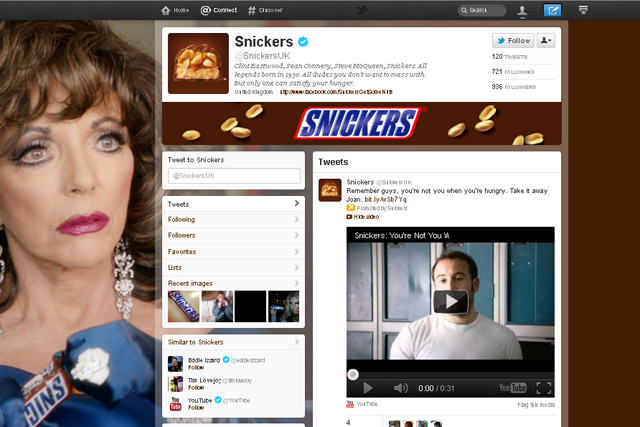 Twitter stepped up its brand charm offensive earlier this month with the unveiling of an offering that many marketers have been eagerly anticipating – branded pages.
The industry is well aware of the benefits of having real-time conversations with consumers, whether for customer service
or brand-building. Yet it has taken until now, almost six years after the social network launched, for marketers to be able to create a 'proper' destination for followers of their brands on Twitter.
Kraft, T-Mobile and Walkers (see views from Kraft's Daryl Fielding, Walkers' Miranda Sambles and T-Mobile's Nick Foster, below) are among the first 40 brands to have launched a branded Twitter page in the past two weeks, along with British Airways, Nokia, Marks & Spencer and Disney.
Greater control
Brands now have greater control over the look of a page, enabling the inclusion of a branded banner and a permanent tweet that can be 'pinned' to the top of a stream. The latter can include rich media, such as a video or a promotion.
Factor in the opportunity to choose a background image and the pages make a more overtly branded environment than Facebook. According to Twitter, more brands are directing consumers to the site in their marketing. 'The new profile pages give brands more control over what those people experience,' says a spokeswoman.
However, while the pages are free to set up, brands must commit to spending about £25,000 on Twitter ad products, such as promoted tweets, usually over a three-month period. That means Twitter has pulled in £1m from those 40 brands that have signed up since the start of February.
The launch of Twitter's branded pages will also draw comparisons with Facebook. Some industry experts have complained in the past that the latter can be restrictive on the branding opportunities it offers.
Adam Graham, chief executive of digital-focused agency Weapon 7, argues that the two platforms offer two different types of services to brands. 'Twitter brand pages will form a vital part of the social-media footprint for many brands,' he says. 'The thing to focus on is generating engaging content.'
Focus on the main challenge
Tom Bazeley, managing partner of digital agency Lean Mean Fighting Machine, warns that while Twitter's enhanced pages offer 'a more overt branding opportunity', it should not distract from the main challenge. This, he says, is 'finding something to bang on about that sells your product, but doesn't make it feel like you're selling a product'.
Bazeley adds that, although Twitter's branded pages can help achieve this objective, they are not a shortcut to it. As Twitter aims to further commercialise the platform, which now has an estimated 100m users, it will no doubt come up with more ways to develop functionality.
As with every digital development, however, marketers must question the return on investment; £25,000 might be a small proportion of major brands' budgets, but unless Twitter can deliver measurable results, it might struggle to bolster its brand following further in the long term.
BRAND VIEW
Miranda Sambles, marketing director, Walkers
It is important for Walkers to be where our consumers are, and Twitter is where they choose to have a conversation with us.
It has been the perfect platform to spark that conversation for our latest 'Flavour' campaign; we were already getting thousands of guesses, before it had even launched on TV.
The brand pages enable us to play with many ideas, updating them as we go, as well as using promoted tweets, trends and accounts. We want this sort of activity across our whole brand, so we will use what we learn from this campaign to help us craft what we do in future on Twitter.
Facebook is also important to us, but Twitter feels the right place for this campaign – it is live, quick,
of the moment and enables us to have daily conversations with consumers.
No doubt Twitter will continue to evolve, and we'll evolve with it.
Nick Foster, head of brand communication, T-Mobile UK
The T-Mobile Twitter brand page is one of the many ways we talk to our customer base and offer interesting content and conversations.
We have used the brand page to generate conversation about our Full Monty plan, as well as the creative vehicle for the 'Giving Britain what Britain loves' campaign. We drove views of our YouTube channel at launch, offering those seeking the content an exclusive online version, before it launched on TV.
We're proud to have been among the first brands to go live with Twitter brand pages. We're constantly looking for ways to communicate in interesting ways. Facebook and Twitter offer slightly different opportunities. Twitter is much more 'of the moment', allowing a brand to get involved in the conver-sation, while Facebook offers deeper engagement.
Twitter brand pages are a step to help brands offer a more complete experience, with pinned tweets and improved designs.
Daryl Fielding, vice-president marketing, Kraft Foods Europe
As Cadbury Dairy Milk is the nation's favourite, reach is critical to our marketing thinking. Twitter has that mass- reach potential, and it fulfils our desire to test and learn.
Our 'Joyville' campaign is a big launch for us, so its ability to create real-time buzz was also important. We wanted to get journalists, bloggers and brand fans talking about our campaign. Part of our brand strategy is to encourage sharing of 'Joy'; in this case the medium was also the message.
People seem to enjoy interacting with Cadbury – we have recently reached 1m fans on Facebook, so Twitter is a natural extension. The immediacy of Twitter and the facility for consumers to share is a clear plus. The platform is adding functionality to improve engagement with image sharing, so some of its previous limitations are being removed.
I rather like the enforced brevity; it's a bit like the difference between the sharpness of a 30-second TV ad versus long-form video content. Sometimes saying it shorter is better.
EXPERT VIEW
Mel Exon, partner and founder, Bartle Bogle Hegarty Labs
What Twitter is doing with brand pages is smart; it is responding to what brands have been asking for. However, they are only for brands that are truly serious about the platform, as the £25,000 investment is not insignificant in social-media terms.
We need to take a balanced view, and I'm not sure this is an earth-shattering development for brands. It is perhaps more of a hygiene factor. Twitter is growing up a bit and saying that it recognises brands want a richer and more customisable environment.
It has done just enough in terms of design. In fact, it has been more generous in the branding sense than Facebook, but they are such different platforms; I do not think that Facebook or Google+ will feel remotely threatened by this.
Twitter's unique selling proposition is that it offers frictionless, proper conversation in real time. Facebook has never matched it on this front. I think if Twitter made the pages any richer, it would start to change the nature of the interaction and risk watering it down.
If it were to continue down that path, it could become like other social networks and lose its point of difference. I'd therefore caution it not to – before you know it, they could just be like a web page with a Twitter stream.
NEED TO KNOW
Paul Armstrong, head of social, Mindshare, outlines five considerations for marketers launching a branded Twitter page
1 First impressions count
Most people who come to the page won't be followers. Decide which is more helpful as your pinned tweet: your latest ad, or a video about why they should follow.
2 Is video the only way?
Pinned tweets are not limited to video. It might be more helpful to your potential followers to have an image, voucher or map.
3 Can non-Twitter users get value too?
The functionality that the £25,000 investment unlocks is gold. Analytics and better branding are two benefits, but it's important to remember that anyone can see your feed or content. Make sure you are maximising this across your media channels.
4 With extra people comes greater responsibility
The investment should result in more followers and interactions, and might require additional tools or people. Those who invest early will see rewards now as well as later when additional functionality is unlocked. Make sure you have a crisis procedure in place before delving into anything that moves as quickly as Twitter.
5 The background branding
This is an area often under-used by brands. Remember: it appears differently depending on the viewer's screen size. Make sure you don't have vital information below the fold.