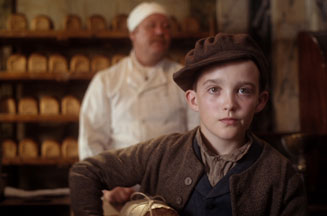 Hovis [Name], good morning.

Mktg Is that customer services?

Hovis Its marketing, can I help?

Mktg I just wanted someone in customer services.

Hovis What's the problem you have?

Mktg There's no problem - it's just that I heard that all ingredients in Hovis would be British.

Hovis That's OK. It wouldn't be customer services, that would be me. We're swapping to 100% British wheat.

Mktg Is it to give farmers a fair price? It's just something I'm interested in.

Hovis Well, if it's easier for you I could send you our press release or I'm happy to talk you through it over the phone.

Mktg Could you talk me through it please? I'm a consumer, that's all.
Hovis We announced we would be using 100% British wheat in all Hovis lines from January. Hovis has been growing Canadian red wheat in Britain for the past five years. The National Farmers' Union president, Peter Kendall, said it was fantastic news, showing a commitment to UK farming.

Mktg OK.

Hovis We used to import £18m-worth of Canadian wheat, which will now go to UK farmers.

Mktg So originally the wheat came from Canada?

Hovis The red wheat, yes.

Mktg I was just interested in eating as many locally sourced foods as I can.

Hovis I believe you could import wheat and call it British flour if it is milled here. We're both growing and milling it.

Mktg And will it be the same price?

Hovis Yes, there's no price changes to the products.

Mktg Brilliant, thanks for your help.

Hovis Thank you, bye.

Verdict

I was glad that I was able to talk directly to the people who are dealing with the changes, not a department that had simply been passed the informa-tion. Speaking to them first-hand meant that
I could ask all the relevant ques-tions and get an immed-iate resp-onse. The call han-dler was polite and gave me all the answers I needed.
Score
9/10