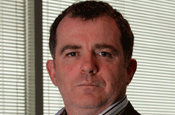 Welsh replaces Dennis Kerslake, the current chairman of the agency, who will now run Publicis' Citi account across EMEA.

As well as running the agency, Welsh will be briefed to relaunch Publicis Dialog to give it a stronger focus on CRM.

The move is the first major hiring for Nigel Jones, the chairman and chief executive of Publicis Group UK, who joined at the end of August.

He said: "I worked with Mike at Claydon Heeley and I saw first-hand how good he can be.

"CRM is a genuinely multimedia discipline, and the repositioning will see Dialog operate more in the digital, mobile and emerging media areas, as well as direct mail."

Publicis is also planning to launch a fast-to-market creative agency. Based in Publicis' offices, Ideas to Market will focus on retail marcoms, delivering in-store, channel and experiential services.

Tony Treacy, the current managing director of Publicis Dialog, will head the business.

Welsh joined Craik Jones from Claydon Heeley in March at a tumultuous time for the agency.

It had not only lost senior management personnel, including David Watson, the chairman and last remaining founding partner, but also high-profile accounts including Land Rover.

In August, Omnicom announced that it was rolling the business into Proximity and would rebrand it under that name, effectively signalling the end of Craik Jones.