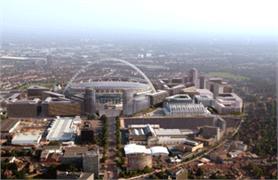 The move sees Barclaycard acquire the naming and promotional rights to London's Wembley Arena and will also see Barclaycard customers have access to exclusive ticket deals.
The five-year deal will see the venue become officially "Wembley Arena, a Barclaycard Unwind Venue" with contactless payment points installed throughout.
The site is owned by Quintain, which struck the deal with Barclaycard, and revamped the venue for £36m in 2007.
"Wembley Arena is one of the best-known and respected names in the British music business and for more than fifty years it has played host to some of the greatest music acts of all time," said Barclaycard global brand director Gary Twelvetree.
"So the opportunity to link our own customer benefit programme, Barclaycard Unwind with Wembley Arena was irresistible. This partnership is part of our wider involvement in the music and entertainment business alongside existing title sponsorships Barclaycard Mercury Prize and Wireless sponsored by Barclaycard."
Wembley Arena is operated on behalf of Quintain by Live Nation.
Email Event or register and let us know your thoughts.