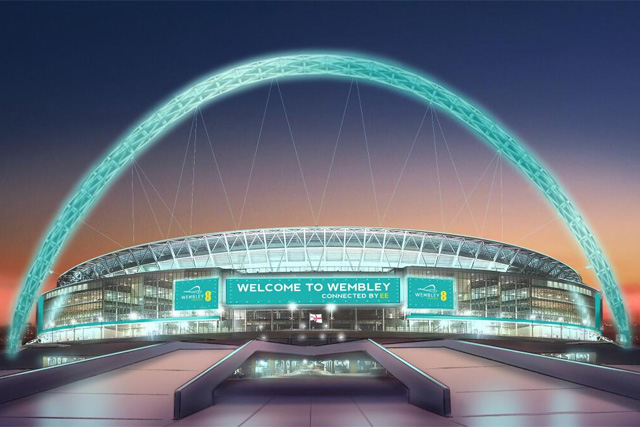 The venue will be renamed Wembley Stadium connected by EE, emphasising the Football Association's efforts to "enhance visitor experience" through mobile connectivity.
The FA has long been on a hunt for a sponsor for the stadium, and rumours of a commercial tie-up have been circulating since 2007. The agreement was then speculated for an official announcement in November 2012, but the FA sturggled in its search for a partner.
Wembley's chairman Melvin Benn said: "Wembley Stadium marked its 90th anniversary in 2013 and this partnership shows that we're looking to the future and ensuring that we fulfil our ambition to offer inspiring memories, whilst bringing innovation to the stadium at a much faster rate and providing services that are at the forefront of consumer engagement and technology."
EE has already planned its sponsorship activation, including mobile ticketing solutions, enhanced mobile network access and super-fast Wi-Fi available for all stadium visitors.
A new logo uniting the two organisations is also expected to be unveiled later today.
The deal includes the launch of a free app, offering a feed of event content as well as stadium and travel information. The bespoke app is the first of its kind for Wembley visitors and is available for download on Apple and Android devices from today.
Olaf Swantee, chief executive of EE, added: "Over the coming months, we will announce an exciting programme of upgrades and innovations to the existing infrastructure at Wembley that will ensure the stadium offers visitors a world class spectator experience for many years to come."
The partnership kicks off this weekend with the League Cup Final between Manchester City and Sunderland on Sunday 2 March.