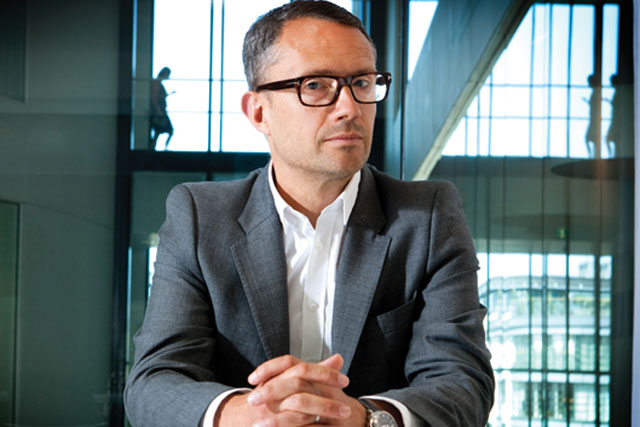 The media landscape is in a state of flux. News is no longer a national game and media organisations are not just competing with their national counterparts, but with a global set of online players vying for consumers' attention from around the globe.
To add to the mix, the way people are consuming news is changing, with more and more people accessing content from global sources, using multiple platforms and sharing volumes of self-produced content themselves.
As, on the whole – although not at The Guardian – newspaper circulations in the UK continue to experience a decline year on year, it's no surprise that print ad revenues have followed suit. But whereas readers are swapping their printed newspapers for reading news on other devices, digital advertising revenues have still not made up the shortfall. This is true across all markets. In the US, for instance, for every $1 gained in digital advertising, $7 is lost in print advertising.
The metrics around digital advertising mean that growing new international audiences will be absolutely critical to the success – and survival – of UK media organisations. If a media organisation grows its audience, advertising revenue will follow suit.
It's something that we at The Guardian take very seriously. We know we need to adapt to survive – and our "digital-first" approach has been instrumental in our evolution from a UK-based print newspaper to a global media brand with a growing audience of tens of millions of readers across the world.
We have the advantage of starting with a great product in our agenda-setting, quality journalism and a trusted brand with a 200-year heritage. But on its own, we know this isn't enough to grow our audience outside of the UK. Tapping into themes of global relevance is absolutely essential and, when a media organisation gets this right, global audiences will soon follow.
For us, breaking some of the world's biggest news stories – from the Edward Snowden files to phone hacking and Wikileaks – has been crucial in showcasing our global relevance, as well as shining a spotlight on what makes The Guardian's independent journalism different.
But it's not just about the big global stories. Getting under the skin of local issues that matter to the people on the ground is just as important. Our reporters in the US and Australia tap into the concerns of their local audiences by following, covering and developing the topics that most interest them on the ground.
In both the US and Australia we've successfully tapped into the political issues that matter to readers, and that other news organisations haven't covered in the same depth and with such a distinctive voice. In the US, the NSA stories sparked a national debate that has had an impact at the highest levels of government, while in Australia our focus on immigration has focused the nation's attention on issues that had been overlooked for too long.
The digital-only nature of our newsrooms in New York and Sydney also means that our teams aren't constrained by the legacy processes of print journalism, but can tell stories in new ways – they can think differently about how, what and when they report. And we can learn from that here in London too. This approach is a crucial part of enabling us to shape and define what The Guardian means in the different markets in which we operate.
To support us, and to show our potential brand partners around the world how The Guardian can bring value, we've developed our own tools to understand our readers and what makes them tick.
We've learned that our readers around the world – "progressives" – share a number of concerns and interests. They are forward-looking individuals who are curious about the world and embrace change and technology. So we've worked hard to ensure the content we produce – both through our editorial and commercial partnerships – resonates with them and brings them value.
We're reaping the benefits of adopting this approach. We've continued to grow our global audience year on year – two-thirds of our readers now come from outside the UK, one-third of these from the US. We are now the third-largest English-language newspaper website in the world, with an audience of over 90 million unique browsers across desktop and mobile. And we've seen huge increases in our digital revenues as a result, with a 30% year-on-year rise last year and an expected further 20% increase this financial year, taking our digital revenues to £70 million.
Our global growth has been sudden – and we're still adapting to it. But in 2014 and beyond, we expect to extend our global reach, look for new opportunities in new markets, and continue to consolidate digital revenues as a result.
We know a one-size-fits-all approach does not apply to the future of media. We've had to think globally because, in a shifting global landscape, only those media organisations that do it right, will thrive.
Read Media Week editor's comment on David Pemsel's speech at the Guardian Media Summit this week on wallblog