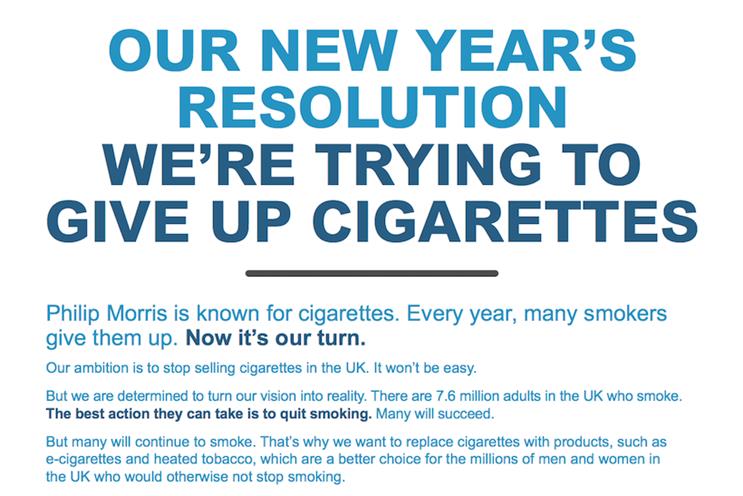 PMI has placed the full-page ad in the The Daily Mirror, The Sun and The Times, through media agency All Response Media.
A company spokesperson said the ad was the first step in a campaign that includes further elements later this year.
The word-heavy, imagery-light creative was assembled by Other Creative and takes the form of a New Year's resolution announcement by PMI.
The ad is careful to stress that the best thing the UK's 7.6 million smokers can do is to quit, but for those who will continue to smoke, PMI's ambition is to get them to switch away from cigarettes to e-cigarettes and heated tobacco.
"No cigarette company has done anything like this before," the ad claims. "You might wonder if we really mean it. We do."
It outlines four commitments it is making to demonstrate its sincerity, including offering to support local authority cessation services and asking the government for permission to put information on quitting and switching directly into its cigarette packs.
PMI's key cigarette brand in the UK is Marlboro, which is not mentioned in the ad. Neither are its alternative product brands – 'heat-not-burn' product IQOS and e-cigarette brands Vivid, Nicocig and MESH.
PMI has a smaller share of the UK cigarette market than rivals such as Imperial Brands and Japan Tobacco International (JTI).
The market has also shrunk, with only 15.5% of UK adults smoking in 2016 according to the Office for National Statistics, down from roughly 50% in the 1970s.
PMI's move puts it further at odds with JTI, which has focused on fighting against the UK government's plain cigarette packaging legislation.
Its ad also commits it to "expanding the availability of new, alternative products in the UK" and points readers to its own website about quitting and alternatives to smoking at smokefreefuture.co.uk.