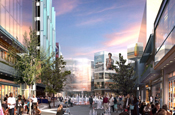 The retail developer has approached a number of undisclosed agencies with a view to holding a pitch.

The successful agency will produce a new consumer-facing site that will be accessible from both desktop computers and mobile handsets.

The site will be non-transactional and will seek to position the new Stratford City mall, set to launch before the 2012 Olympics, as the next iconic shopping mall.

Westfield's most recent development, a £1.6 billion mall in White City, opened in October, supported by an above-the-line campaign created by Adam & Eve.

The agency, which secured the business in March, produced a TV spot featuring moth-like people flying towards the mall.

The Stratford City mall will lie between Stratford city centre and East London's Olympic Park, and will house retail, entertainment, dining and leisure facilities.