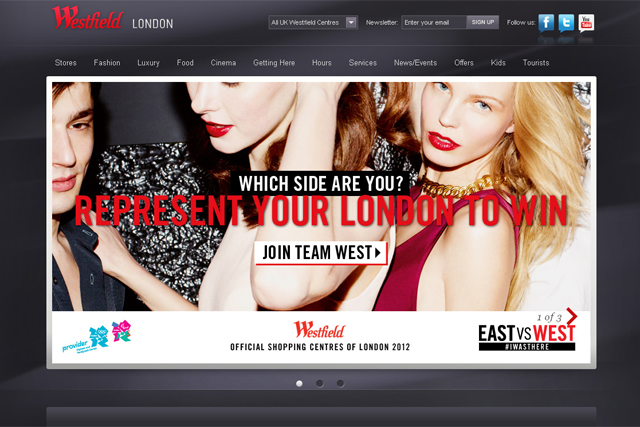 The online campaign will encourage Londoners to show support for either Westfield London in West London or Westfield Stratford City at the edge of the Olympic Park via a number of social media channels.

Story Worldwide created the campaign that allows participants to earn their respective 'teams' a point by signing up at the Westfield London or Westfield Stratford City websites.

Points can also be earned with tweets, Instagram pictures, videos and check-ins referencing the dedicated hashtags #iwasthere #west or #east.

Facebook activity will include apps and content strategy that set a series of challenges to generate a buzz for the campaign.

Westfield, the official shopping centre of London 2012, will offer Team GB merchandise to those who create the best content.

Retail, fashion and entertainment bloggers will be encouraged to 'captain' their side of London by generating content to share #iwasthere experiences.

Tagged content will be featured in live feeds on the Westfield London and Westfield Stratford City websites until the end of the Olympic and Paralympic Games.

The best content will be showcased on the websites with weekly winners receiving prizes, including Team GB merchandise.

The end of the campaign will see an overall winner selected for best content, who will share the £25,000 prize fund with an undecided number of randomly selected members from the winning team.
Follow Matthew Chapman at @mattchapmanUK