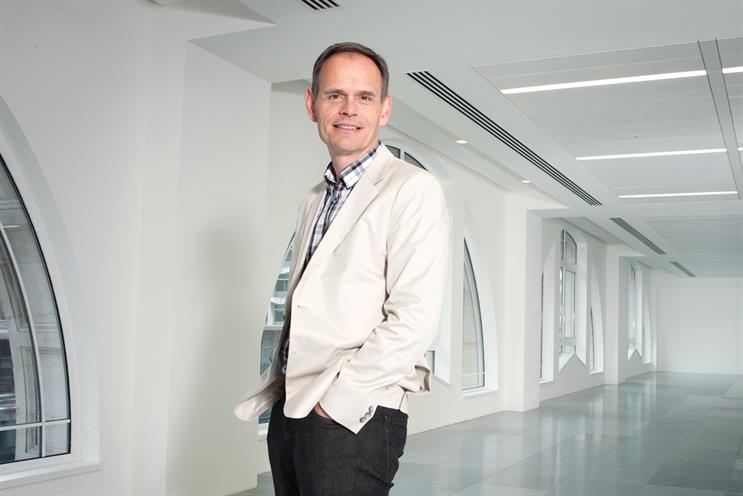 EE, O2 and Vodafone have poured tens of millions of pounds into creating Weve, a joint venture tasked with launching a mobile payment wallet, running mobile marketing campaigns across all three networks and creating a way of storing loyalty cards on smartphones.
Its goal is simple – to allow the UK's three biggest mobile operators to take on the might of Google, Facebook, Apple and Twitter in the war for the mobile consumer.
After gaining approval from regulators last autumn, the operators appointed David Sear, a founder of the online payment system WorldPay, as Weve's chief executive.
Sear sees his mission as alerting marketers and media agencies that the mobile handset is now consumers' first screen and brands have to be on it.
"Brands have to embrace mobile. It has passed the point of theory, it is happening now," he says. He compares the introduction of high-speed 4G to the roll-out of internet broadband in its transformative effects on commerce. "I've been involved in businesses that crested the wave of the internet explosion and won. That's what we need to do with Weve," he points out.
Over the past six months, the three mobile operators have built a combined audience of 20 million consumers who have opted in to receive marketing offers and ads.
So far, Weve has delivered more than 400 SMS and MMS campaigns across the three networks for 175 brands including Morrisons, Tesco and Nike. Sear thinks SMS campaigns are underrated – they have high open rates and can be very effective.
A campaign for Windows Phone encouraged people to click an SMS link to visit a demo page. The activity had a click-through rate of 3 per cent – nearly 10,000 clicks. Kleenex sent an MMS to people in locations within a one-mile radius of flu outbreaks. The click-through rate was 2.4 per cent – some 4,500 clicks.
Sear is convinced mobile will become the primary form of marketing. Weve can use anonymised data for SMS campaigns including postal area (but not postcode), handset brand, mobile contract, gender and information customers offer when opting in.
In addition, Weve is planning to create a mobile internet display advertising platform. Beta trials will start at the end of this year. The arrival of Nigel Clarkson, a former Primesight sales and marketing director who most recently led the sales team at LivingSocial, will provide much-needed commercial expertise.
"I absolutely believe I have joined the most exciting British start-up of recent times," Clarkson says. "As our text and display products develop, I know we will be able to play a pivotal role for brands."
Mobile display was worth £150 million last year, and the Internet Advertising Bureau expects the figure to rise to £250 million this year. Sear believes it's not unreasonable to think this can treble over the next five years.
With 4G and smartphones, mobile becomes the most important thing for advertisers, agencies and retailers
He says Weve will be able to track mobile users' internet journeys – something that brands desperately need. The vast majority of research consumers undertake before making a purchase is via mobile, he argues. But mobile's weak use of cookies means brands cannot currently track the customer journey, which is possible on desktops. "The world is going dark as people move their transactions on to mobile," he warns. "Bringing these operators together enables us to shine a light into that darkness."
Not everyone is happy about the creation of Weve. Google and others argued to regulators that the operators could leverage their handset subsidies and technology to lock out rivals.
Meanwhile, Google is expected to launch Wallet in the UK next year, Apple has Passbook and Samsung has tied up with Visa – meaning competition in the mobile commerce space will be fierce.
Weve's objective is to cover the whole process of mobile commerce, and payment is just one part of that. Sear says brands and media agencies are still slow to catch on. "With 4G and smartphones, this whole medium becomes the most important thing for advertisers, agencies and retailers. While we see great traction, I think they would acknowledge that they haven't scratched the surface," he suggests.
Lucy Ostermeyer, the head of mobile at the7stars, is among the first movers to have had success with Weve's geolocation offer. The agency ran an MMS campaign targeting 18- to 34-year-old men around Valentine's Day. Sent when they were within 500 metres of Tesco stores to encourage them to buy the Emeli Sandé album, the retailer reported a 38 per cent uplift in sales.
The campaign cost £2,500 – 14p to send out each of the 18,000 messages – and Ostermeyer is impressed by Weve's data. "It feels like its products are being developed around how we use mobile in our everyday lives," she says.
Music, no doubt, to Sear's ears.