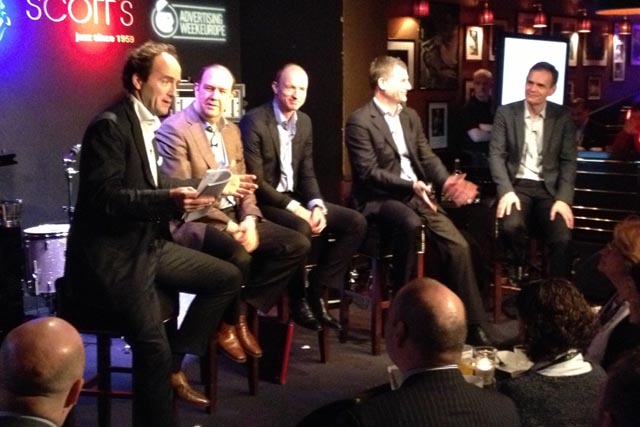 The heavy investment and strategic importance behind Weve, formed after regulatory approval in September, was revealed for the first time at an Advertising Week Europe event yesterday.
David Sear, incoming chief executive of Weve, left no doubt as to the ambitions of the initiative, which boasts an opt-in combined customer database of 15 million users and the very latest technology shared by all three mobile giants.
"Mobile is going to transform media and advertising, loyalty and reward and payments over the course of the next few years," he said.
"Retail was always about location, location, location and now location is in our hand." Originally conceived as a SIM-based platform for mobile payments, the mobile operators have since broadened their horizons for Weve, with Vodafone chief executive Guy Laurence positioning it as a "single door for advertisers" looking to benefit from its scale.
He added: "This is not PowerPoint, it's not a million quid, it's not a very expensive CEO, we, between us, have put in tens of millions of pounds into this. And we have re-orientated our businesses to get the very necessary opt-ins from our customer bases.
"We cannot afford to annoy our customers, so we have to do that in a very professional and legal way, and we've done all that."
Explaining the unprecedented decision by the three fierce rivals to join forces, Ronan Dunne, chief executive of O2, said that by bringing an aggregator together and making the market, you actually increase the market.
He said: "The one insight we all had at the start is, we can fight over a small piece of cake, but why not make a big pie and then we can all compete happily for a big slice of it… Our customers will value their relationship with us by the access we afford them."
Dunne added: "This is interoperability for brands. We know that brands want to talk to as broad as possible range of customers in the marketplace. What we're affording is the opportunity for every brand to have true interoperability and talk to the people that will most value the opportunity that they offer."
In addition to advertising opportunities, the use of smartphones to shop with and buy everyday items instead of credit and debit cards was also singled out as a major opportunity for brands.
Admitting it had got off to a slow start "because of a lot of inter-fighting on the mobile operator side", Laurence said the upcoming explosion in NFC-enabled phones will change the marketplace forever.
"Every single phone coming out of the production line regardless of manufacturer, by and large, by this [end of] year will be NFC-enabled," he said. "By 2016, worldwide there will be a billion NFC-enabled phones.
"Now it's up to the merchant services guys and the loyalty companies to get their act together... I am utterly convinced that even by 2014 you will see this being a material part of the market."
The Weve joint venture, which numbers around 100 people, is said to have been kept purposefully small, but enjoys the full-backing of its shareholders. EE chief executive, Olaf Swantee, admitted: "We have spent a lot of time with lawyers to make sure Weve and the team can really execute ideas with minimal intervention from our side."
Much inspiration, according to Swantee, had come by looking at telecoms partnerships that have played out in other markets, most of which had not worked.
Weve claims to already represent 80% of UK mobile customers but chief executive Sear was keen to leave the door open for partnerships with other operators further down the line. It follows rival Three lobbying the European Commission in attempts to block the joint venture last year, arguing it would be "anti-competitive" and curb innovation in the market.