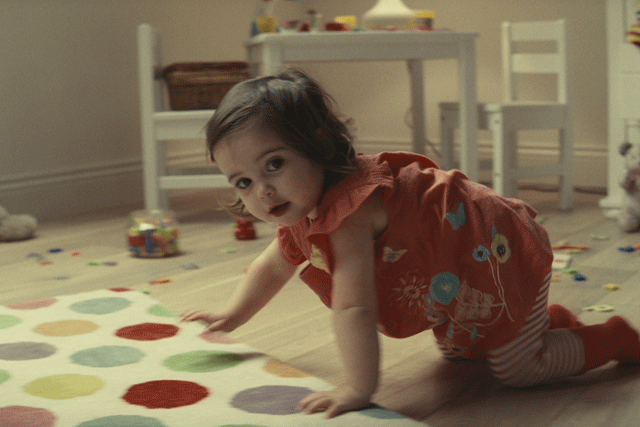 A 'hug in an ad' is how some describe it. Others call it schmaltz. Whichever term you opt for, one thing is clear: sentimental ads can be found in abundance on our TV screens right now.
Whether it's Google Chrome's 'Dear Sophie' ad, Sainsbury's father-and-son bonding or the Halifax choir, there seems to be a trend for brands wanting a family-focused ad that touches people.
One school of thought is that in tough times, people are more willing to connect with a bit of feel-good TV advertising.
'If you look at all the things that are successful now, there is real emotion involved,' notes Lee Rolston, marketing director of Muller Dairy. 'Take The X Factor, for example - it is the pinnacle of raw emotion. These things are giving people a break from what they see out of the window.'
Another theory is that, with studio budgets under pressure, film directors are accepting lucrative ad work, resulting in beautifully crafted, filmic ads.
While both explanations ring true, another, perhaps cynical, belief is that marketing directors have been asking their agencies to 'do me a John Lewis'.
'I'm sure many will have referenced John Lewis when discussing their next ad,' says Rolston. 'As a client, you think "Wow, that really stopped me; I wish my ads could stop people".
'There's usually a 12-month lag between a standout ad and others following in that style, so that could be what we're seeing now,' he adds.
Premier Foods group marketing director Jon Goldstone believes that any business can opt for a more emotionally driven ad - it is not the sole domain of family brands.
'If brands are all observing the same consumer trends, then they are likely to respond in similar ways,' he adds (see box, below).
However, James Murphy, founding partner of Adam & Eve, John Lewis' creative agency, believes that only brands with a 'strong emotional connection with consumers' should play on these sentimental values in their ads.
'The Sainsbury's ad looks like it's inspired by John Lewis, but Sainsbury's is a "fabric of the nation" brand, so it's a position it can take,' he says.
Tea brand Tetley unveiled its latest campaign this month, also opting for a sentimental theme, with the Sydney character singing Just the Way You Are.
People find it 'very emotional', according to Nigel Holland, regional president EMEA for Tetley-owner Tata Global Beverages. 'Whatever you do must always be anchored with a truth that's credible,' he adds. 'Dialling up emotion should never be unbelievable, otherwise it just becomes crass.'
Emotional connection
The merits of emotional versus rational advertising have been much-analysed over the years. TV marketing body Thinkbox says plugging that emotional connection gives brands a better chance of creating a memorable ad.
Neuroscience demonstrates that the two parts of the brain most stimulated when watching TV are those that control emotion and long-term memory encoding; exactly the areas any brand should be seeking to tap into, claims Thinkbox.
While schmaltz might be an unfair label - it implies over-sentimentality - ads that have the feel-good factor are likely to remain prevalent for now.
'If we go from hard times to boom, then that delicate, sensitive communication might move to something more upbeat and bullish,' says Murphy. 'In the 80s, communication was about individual and individuality. Now, it's about the collective and community.'
Similarly, Rolston believes the 'next big thing' could easily change things.
'Last year, marketing directors were probably saying "Can you do me a man on a horse like Old Spice?"; before that, it was the Gorilla ad.' After all, he concedes: 'We're all magpies; no one has an original idea'.
HOVIS THE FATHER OF SCHMALTZY ADS
Jon Goldstone, group marketing director, Premier Foods
Looking back to our Hovis spot from 2008, I think that was the first in this family of ads.
It is definitely to do with the economy. There are parallels now with where we were in 2008; we are in recession in all but official language. Some commentators are saying the downturn is to here to stay for at least two to three years, so I suspect these type of ads will continue to come out, particularly if consumers respond positively.
What is interesting is the split between these softer-feeling ads and those that shout about value. Tesco's 'Big price drop' ads and Sainsbury's new campaign, featuring a father and son, are a good example here. They're playing to two trends: on one hand, you have the growth of the hard discounters; on the other is Waitrose, doing very well.
Marketers are choosing which end of that scale their brands should play for in their ads. It will be interesting to see how that pans out in the next 12 to 24 months.
TWITTER
- What are your favourite schmaltzy ads at the moment?
@saturngirl Sarah Taylor
Surprisingly, that sweet Nationwide one.
@charlienin Charlie Elliott
The KFC ad. Two teenagers flirting with the lyrics 'We got family' in the background. Incestuous much?
@ElNickerson Eleanor Nickerson
I think the John Lewis ad gets the prize for putting the Black Beauty theme tune into my head every day.
@ClearviewSysLtd Clearview Systems
It's got to be the 'holidays are coming' Coca-Cola Christmas ads. Pure schmaltz, but a sure sign that Christmas is on its way.
@theREALJacey Jacey
John Lewis ads aren't schmaltzy. They're nostalgic and I think a great brand articulation.
@ktmonkey Katie Monk
I agree with @therealjacey. I love the JL ads - they hit an emotional spot and they engage and resonate.
@wrightwell Kathy Lawrence
Even my TV-phobic OH stays to watch the John Lewis ads. They're great.