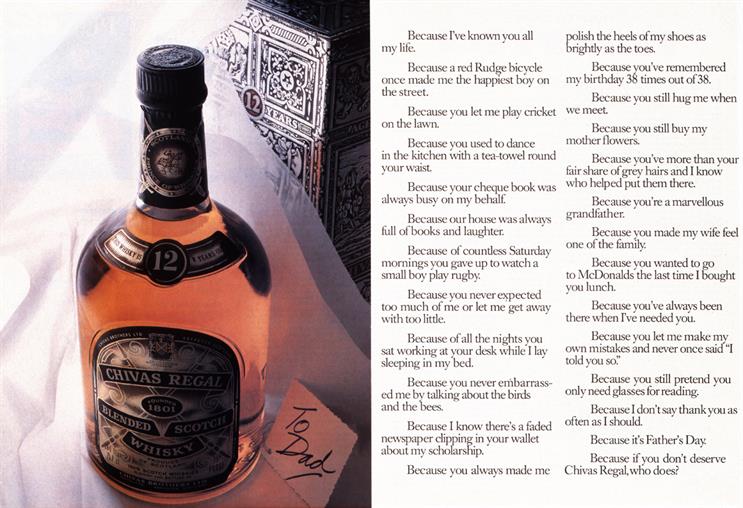 Peter Souter
Chairman, TBWA UK; former executive creative director, Abbott Mead Vickers BBDO
"Because it is, quite simply, the best copy ever written.
"Because it is about David himself and his dad and his kids and his wife.
"Because it is so damned human, it hurts your eyes to look directly at it.
"Because he always made me polish the heels of my shoes as brightly as the toes. (Even though I mostly wore trainers until he made me wear his giant, unfillable brogues.)
"Because it is poetry that ran in the space where the ads usually went.
"Because, even though I've read it a thousand times, it always makes me cry. Now, heartbreakingly, more than ever.
"Because I know it off by heart.
"Because no-one will ever write better advertising. But David will always inspire us to try.
"Because he was my hero, my mentor and, I hope, my friend.
"Because, if he doesn't deserve our undying love and admiration, who does?"
Volvo 'If the welding isn't strong enough...'
Paul Brazier
Chairman and chief creative officer, Abbott Mead Vickers BBDO


"By the time David retired, he had been in the D&AD book 287 times as a copywriter.
"David was not only a great wordsmith, he had many other qualities. His creatives were in awe of his immense talent and would have followed him to the end of the earth.
"David led by example. Lesson after lesson was given in his department on how to create great work.
"The lesson that always stays with me and I use every day is this: find a good proposition, something bullet-proof, and then set out to prove it is true. Like the Volvo ad that declared: 'If the welding isn't strong enough, the car will fall on the writer.'
"Here, David took proving the point to the extreme. He literally put himself on the line, believing every word he wrote.
"So many of David's ads are important to me because they were all lessons in themselves."
ASTMS 'The board and I have decided...'
Dave Trott
Chairman, The Gate London

"Years ago, Gordon Smith asked David Abbott which of all the ads he'd done was his favourite.
"David picked one he'd done years earlier – at DDB, I think. It was just headline and copy. The headline said: 'The board and I have decided we don't like the colour of your eyes.'
"It was for the Association of Scientific, Technical and Managerial Staffs. It was the first middle-class union.
"Normally, when someone got fired, 'They didn't like the colour of my eyes' was a cliché similar to 'My face didn't fit'. Meaning, they just didn't like you.
"In a pithy way, David managed to say: 'Unions aren't just for blue-collar workers. One day, you may get fired unfairly, at the boss' whim, and need the power of a white-collar union to stand up for your rights.'
"I agree with David – it's also my favourite David Abbott ad.
"I went online and spent hours looking for it, but I couldn't find it anywhere. Never mind: if David Abbott thinks it's his best ad, that's good enough for the rest of us."



Sainsbury's 'Can you tell...'
Russell Ramsey
Executive partner and executive creative director, JWT London
"There was a period in the late 80s when every student book was full of 'David Abbott' ads.
"His influence had been so great that his work had almost become the definitive way of writing press ads. The calm, simple story combined with calm, simple art direction. Talking to people, not at people.
"Of course, those student ads were never quite as good as David's. Although they were copying his style, they never quite grasped that, in every piece of copy, there was a deep understanding of the consumer and the brand. I think they would call it insight today.
"This was never more so than with Sainsbury's. He had a weekly dialogue with consumers.
"My favourite was this potato ad.
"A disarming headline that admitted that Sainsbury's relied on its suppliers for good-quality produce. It's as fresh today as it was 30 years ago."