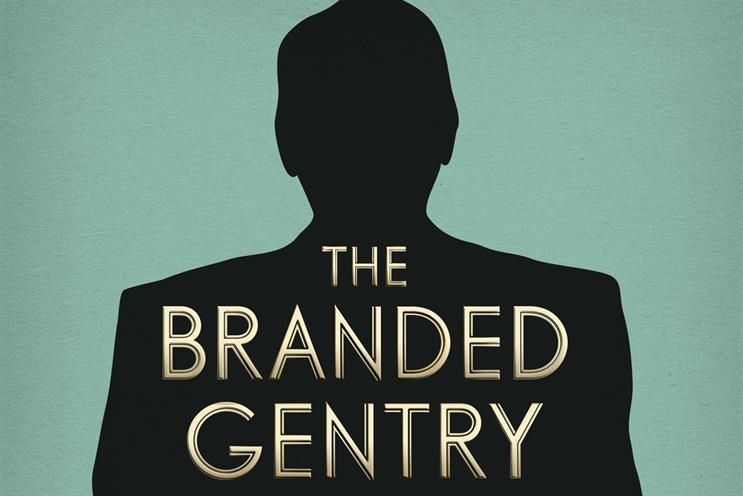 Modern life is fast. So on the rare occasions I finally get to slide on to the chaise longue, unwrap the wafer-thin mints and curl up for a little "me time" with something interesting, it's only rarely a 300-page book by a planner and a market researcher with the word "brand" in the title.
Luckily, it turns out that this particular planner and researcher can write. Charles Vallance and David Hopper's stated mission is to unravel the motivations of those successful entrepreneurs compelled to pin their name on the door, and one early and thought-provoking observation is that eponymous businesses are a mostly dying breed.
A good spot. Consider the digital universe, where surnames have, as Hopper notes, been superseded by brands "named after fruits and baby-noises". Or the world of advertising. When I entered the business 23 years ago, some very big (and eponymous) beasts were hunting each other across the High Veldt of Campaign every week – and most entertaining it was too. Saatchi and Saatchi. Abbott and Mead. Bartle and Hegarty. Wight and Collins. Howell and Henry. Boase at BMP. Trott at GGT. Lowe at Lowe. I could go on. Extraordinary talents, every one of 'em. And there was a frisson, because it felt personal.
Compare and contrast with recent ad start-ups. Creature. Now. Joint. 101. Fabula. Enter. Krow. The Corner. The News. Green Cave People. Shrewdly, your correspondent is detecting a trend. And I'm reminded of a throw­away comment from a 13-year-old friend of my daughter: "I want to be different like everyone else."
Eponymy may be out of fashion, but the most distinguished start-ups of recent years (Mcgarrybowen, Droga5, Clemmow Hornby Inge, VCCP) have still had their founders' names nailed to the door. As the four-figure IQ behind the last of these, Vallance here elects to explore the mindset in more depth. Do they care just that little bit more? Is it simply ego? Or precisely the opposite – a type of corporate lack-of-confidence trick?
What follows are interviews with 13 eminent and eponymous entrepreneurs ranging from advertising legends (Lord Bell, Sir John Hegarty), via lucky sperm (Lord Sainsbury, David Linley) to self-made strivers such as Sir James Dyson. The excellent Hegarty chapter offers enough clear-headed guidance on creative philosophy to justify the price of admission alone. A neat portrait of a man blessed with the born leader's trick of having people want to impress him, and here showing precisely why.
Had they called it 'Black Sheep', would Bartle Bogle Hegarty have been any more or less successful?
What the authors didn't get around to asking him, though, was the "eponymy question". Bartle Bogle Hegarty must have sounded, at in­ception, more like a muscular Dickensian debt-collection service than the byword for creative noblesse oblige it since became. Had they called it "Black Sheep" instead, would it have been any more or less successful? We can only guess at his answer. Though discovering, in a throwaway aside, that the great man has chosen to call his Languedoc wine enterprise "Hegarty Chamans" was possibly a handy pointer.
While drawing general conclusions from a range as wide as this isn't straightforward, one that struck was the neatly dispelled notion that eponymous companies are a glib extension of the founder's personality. Turns out, from these interviews, the experience is closer to parenthood. Your companies, like your kids, might bear your name and carry your genes, but they grow, leap off and segue into so many new vistas, they end up forcing you to reappraise whatever you thought you were in the first place.
But if The Branded Gentry has a weakness, it's that the authors' admiration for their subjects is, perhaps, a little too palpable. So we don't, quite, get the lowdown; we get the middledown. The more acceptable and attractive bits of the entrepreneurial psyche are all here; the ability, for example, to "sense a raindrop of opportunity whenever it touched their face". But other, less attractive, bits of the soufflé – vanity, hubris, intransigence, ego – mostly aren't. Which leaves us with only part of the picture, as I've yet to meet a successful eponymous entrepreneur who wasn't afflicted in some part by Louis XIV syndrome ("L'État? C'est moi!"). It's part of their secret.
But, hey, I'm being picky, because there are plenty of goodies in here. Sure, some of Vallance and Hopper's conclusions could be said to apply to successful entrepreneurs whether eponymous or not. That their interviewees "didn't simply invest time and money; they invested themselves, unconditionally", for example, could be said equally of a Zuckerberg, Jobs or Branson – or a Sorrell or Robert Saville, come to that.
But what separates one group from the other, I think – and quietly pervades the pages of The Branded Gentry – is the nagging sense that blokes with their name on the door are forced to confront, just that little bit more often than the rest of us, the hoariest philosophical conundrum of them all. Are you what you are, or what other people see you as?
Jon Claydon is the chairman of Work Club.
The Branded Gentry: How A New Era Of Entrepreneurs Made Their Names by Charles Vallance and David Hopper is published on 4 April (£20, Elliott & Thompson)