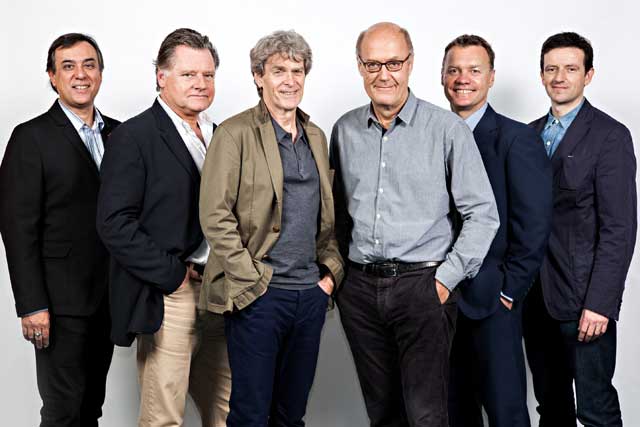 Last Wednesday evening, as Nigel Bogle was entertaining clients at Wimbledon and Sir John Hegarty was huddled in a hotel in Hammersmith telling all to Campaign, Simon Sherwood was locked in a sweaty office at Osborne Clarke signing the final papers that would hand over Bartle Bogle Hegarty to Publicis Groupe.
Sherwood's signature brought to an end three decades of independence for an agency that has grown to become not just one of the best in London, but in the world. And it marks the beginning of a new phase in the agency's life, with the formal recognition that BBH's world-class founders will not be in residence in Kingly Street forever: last Wednesday, the clock started ticking towards the departure of Hegarty and Bogle in two years' time.
"I'm sad about it all," Hegarty admits. "It's difficult because I'm very emotionally attached to BBH. I love what I've done and the people I've worked with. But I'm 68; I've got to go. If you genuinely love the company you founded, you've got to let go. And I've got this great sense of relief now that we know."
Dramatic as all this sounds for an agency so tightly controlled and carefully shaped for 30 years by the people whose names sit above the door, the deal is underpinned by a sense of calm continuity.
Take Sherwood himself. The polished linchpin of the BBH micro-network, he was the agency's first account manager. He will now chair both a new management board and a new global management team, which will be led by Gwyn Jones, also a BBH lifer.
Even Alexandre Gama, who takes on the creative baton from Hegarty, has been part of the group for the past ten years through BBH's stake in his Brazilian shop, Neogama. There might not have been much top-level succession at BBH over the years, but the management of it has been planned for decades, like a family business being passed finally on to the sons.
Of course, some serious booty has just been shared among more than 53 of BBH's senior staff, which might put a new perspective on their relationship with the agency. Nevertheless, the managers who have been indoctrinated in the BBH culture for decades carry its DNA deep inside. In two years' time, they will finally get the chance to prove quite how good they are out of the founders' shadows.
And there's no doubt that this not-so-new management team will bristle at the notion they're "handing over" their agency to Publicis. Everyone is confident that selling out to one of the world's biggest holding companies won't change things much. "Autonomy" is the watchword, they insist, and BBH will continue to be a standalone business untainted by the growth demands or compromising development strategies that often follow a multimillion-pound acquisition.
As laughable as this seems through a coldly cynical lens, for the moment (and perhaps because everyone wants to believe it's true), it's rather convincing.
Bogle says: "When you have spent 30 years building BBH, all you want is for it to get better as you step back. I would hate for it not to go on being at the top of its game. I have tried to do the right things to enable that and I am totally confident in our people and their ability to take BBH to the next level."
"We wouldn't have done this deal if we didn't think it would guarantee the future of BBH and its uniqueness," Hegarty insists. "We definitely didn't go into this with rose-tinted spectacles; we've fought to find a way to preserve our creatively led company in a financially led world."
Bogle adds: "BBH management will set its financial targets. Publicis Groupe is not trying to turn BBH into something else. Where is the point in that?"
Anyone looking for chinks in this promise of autonomy won't find them in the official press release that accompanied news of the deal. There's nothing lurking between the lines of the quotes from the Publicis chief executive, Maurice Levy, to suggest anything other than total respect for BBH and a desire to protect its uniqueness.
Levy says: "We've managed to understand the rare and special company ethos of BBH, its symbol (the black sheep) and its community of men and women, who are recognised as some of the best professionals in our industry. We have decided, together with Nigel, John and Alexandre, to engineer an integration that will preserve and protect their culture, their working methods and the characteristics of the agencies through an approach of 'autonomy inside' the Groupe."
So was it always inevitable that BBH would succumb to the Publicis chequebook? Bogle says not ... or not exactly. "It is not inevitable, although there is a trend of shorter and shorter timeframes between start-up and sell. In our case, we are 30 years old and the motivation was never to build something simply to sell it. But we wanted realisation for our shareholders. If it was just about money, we could have held an auction. The best deals in my book are the ones that you can happily live with."
Yet, for all the talk, it's still not entirely clear what BBH and its clients get out of the deal beyond the windfall. Perhaps it's appropriate to give Sherwood the final word on that. He talks about finally settling the ownership question that has lingered ever since Publicis first came on the scene, and the opportunity to empower a new leadership team. Yes, yes. And? Well: "The Publicis Groupe has some great assets within its portfolio with which we can align and partner so as to bring our clients a broader range of capabilities.
"And, while we have seven offices around the world and provide global coverage for our current clients, there are some gaps that we need to fill. Having a 'parent' like Publicis Groupe will help us accomplish this at a faster rate than we would be able to on our own."
But could BBH have got there alone? Perhaps. We'll never know.
BBH LOWDOWN
- BBH's three top-spending clients are Axe, Google and British Airways
- It has agencies in London, Singapore, New York, Sao Paulo, Shanghai, Mumbai and Los Angeles
- In total, BBH employs 1,000 people globally
- According to its most recent financial figures, BBH's group revenue in 2011 was £96.5 million
- Its longest-standing client relationships are with its founding client Audi and Unilever
- Other BBH businesses include Zag (led by Neil Munn), BBH Labs, Black Sheep Music and BBH Retail
- Neogama is the eighth-largest advertising agency in Brazil, with 270 people and 2011 revenue of EUR42.2 million
BBH SHAREHOLDERS

BBH Holdings principal employee shareholders (on 17 December 2011)

Shareholder Number %

Nigel Bogle 1,180,562 13.0
John Hegarty 1,180,562 13.0
Simon Sherwood 800,000 8.8
Gwyn Jones 560,000 6.2
Ben Fennell 400,000 4.4
Clare Cookson 400,000 4.4
BBH trustees 221,496 2.4
48 others 4,305,501 47.6
Total shares in issue 9,048,121 100.0

Source: Fintellect