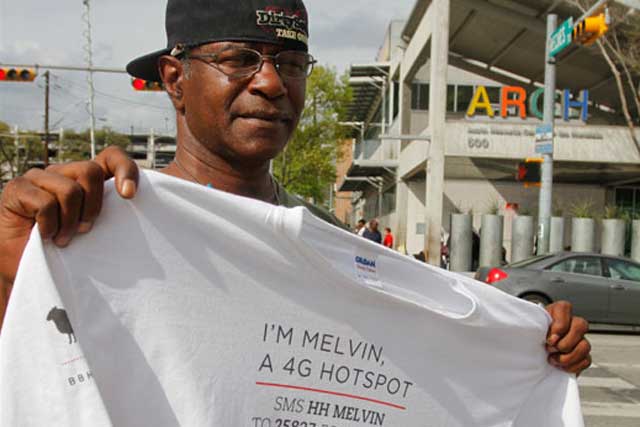 The view from Austin
SXSW Interactive, Austin's spring break for geeks (and geek whisperers), threw up its annual "bigger than last year" set of highlights, lowlights, lessons and gossip. The speakers and panels we loved were:
Amber Case The TED darling, who "studies the symbiotic interactions between humans and machines", caught imaginations with her take on our relationship with technology going through three phases: the solid, the liquid and the gas.
In the solid phase, we physically press or pull one thing that performs one task. Whether a lever on a canal lock or a button on a TV remote control, one action corresponds with one result. The liquid phase adds context. My phone knows whether I want it to be a camera or a music player, or whether I'm at home or at a bar, and so the same physical interaction, touching the same piece of screen, triggers an action that has been altered by context and by my previous actions. That's clever. Where it gets cleverer still is the gaseous phase that's to come. Here, we won't need to interact physically with technology. It will be around us, utterly aware of our context, and it will be up to us to make use of it (start my car, call a friend, sell some stock).
Dennis Crowley The co-founder of Foursquare's interview on the future of the geo-location app as the definitive provider of super-relevant social local information painted a picture of a company with real purpose. As Crowley put it: "Last year, we were the biggest of the little guys, which is pretty fun. This year, it sort of feels like we're the smallest of the big guys, and that's a lot harder." The discussion of how Facebook and others have had to "bolt on" elements that monetise the platform, while Foursquare's addition of local contextual (socially aggregated) deals feels true to the core idea of the product, was insightful and rang true.
Man vs algorithm This was a must for marketers eager for their videos to go viral. Mark Husdvelt from Chill, a platform for watching and sharing video, and Neetzan Zimmerman, the curator of The Daily What blog, were provocative when it came to what determines viral success. Zimmerman, responsible for introducing Rebecca Black's Friday to the world when he posted the unknown video to his blog, was adamant no algorithm would ever be able to determine the nuances of timing, irony and context that make an online video "catch fire". Husdvelt retorted that intelligent tech that analyses social and viewing signals (such as how long your friends watched a given video for, as well as the fact that they watched it in the first place) will continue to work with some curation to serve up popular video. Interestingly, just as Zimmerman made it clear that an ad or ad-backed video is going to have to be amazing to be recommended by a curator, Husdvelt had to admit that algorithms enable advertisers to pay to "fake" the sensation of viral spontaneity (through well-timed seeding and paid-for promotion in diverse locations at the same time) to drive their content high up algorithmically determined lists.
The Winners
Nike The FuelBand, Nike's attempt to recast every solid surface on the planet as a potential platform for exercise (essentially a posh, futuristic, Tron-world pedometer), was SXSW's must-have hard product. Around the dimly lit pool tables at the Casino El Camino, the verdict was "they out-Appled Apple".
Highlight The app that stole the show (even from Made by Many's excellent and much-discussed Picle, a sort of Instagram plus sound). Running constantly in the background, Highlight scans your immediate location for nearby users of the app, surfacing their relevant social information (name, photos, mutual friends, whatever they've chosen to share). Highlight, so the theory goes, will pick your friends out of a crowd, introduce you to new people, tell you what you have in common and make sure you never forget their name. Unfortunately, it will also decimate your battery life while it's at it. A sign of things to come, just as soon as batteries and attitudes to privacy get into line.
American Express Surprisingly from a financial services brand (and one with the historical whiff of the business class lounge), everything that AmEx touched turned to gold: free in-flight Wi-Fi to those travelling to Austin on domestic flights, the Jay-Z free gig and the impression that every Foursquare check-in yielded one of hundreds of discounts AmEx had negotiated. If the brand had arrived with ten thousand umbrellas, it would have walked away untouchable.
Google The Google village - four "houses" on Rainey Street (Maps, Android, Developer and Discovery), slightly "off-campus" in feel compared with the more corporate atmosphere of the Austin Convention Center - struck just the right balance. From panels and discussions (Goodby, Silverstein & Partners' Gareth Kay was particularly excellent on Google+) to Lego Android men, from developer chilli dogs, pizza and beer over Google TV demos to demos of Google Maps' lovely "mapmaker" feature, there was the sense of (not always the case elsewhere) all the beer and barbecues having a reason to exist.
The Losers
Twitter Hard on Twitter, but there was a noticeable erosion in the platform's unquestioned dominance as an aggregator of all social content, in favour of using the content/social signal-creating applications themselves as social hubs. As apps that had previously been easily differentiated begin to run towards one another in terms of offering means of connection, rather than just content to export, Twitter's role as the connective tissue is perhaps under threat, if only among the digerati.
Homeless hotspots A confession to begin with: this could just as easily have been in the winners column (a highly subjective call, for sure), but this initiative made such a splash, with features from CNN to The Guardian, that, one way or the other, it had to be noted. Bartle Bogle Hegarty New York provided members of Austin's homeless community with the technology and infrastructure to turn themselves into paid-for wireless hotspots. Participants were paid $50 a day and able to raise further donations from every passer-by who wanted to connect.
BBH NY had done its homework, working with a local charity and ensuring they paid above minimum wage, and the idea was to modernise the street newspaper vendor (The Big Issue, clearly, was the specific inspiration). The reason why, to us, the homeless hotspots fall into this column is that, unlike newspaper selling, which is a job where being a human helps, the hotspots could have worked just as well, if not better, had they been purely mechanical. The social aim was good, as was the undeniable fact that the project drew attention to a cause that would otherwise have become lost in the noise, but there remains a sense that the willing, paid participants were being nonetheless dehumanised by performing what is essentially a mechanical role.
Microsoft The unfashionable giant at the party seemed to wallow rather uncomfortably around Austin. It was occasionally like a dad dancing (as with Danah Boyd's rather angry rant against The Man in her talk on fear in social media) but, for the most part, was utterly anonymous. Microsoft's beach-hut shack was quiet, even compared with Dell's corporate "wall of dreams".
Even in Browser Wars, where the geeks-among-geeks crowded to watch representatives of the major browsers (of which Internet Explorer remains the world's largest) do battle, Microsoft was pushed to one side. Its launch of Internet Explorer 9 at SXSW 2011 is perhaps the reason why Microsoft (in its own words) was "calmly approaching the event this year and will not be overloading the week with parties, events and activities". It described that approach as "refreshing". The attendees, barely noticing the presence of one of the world's largest technology powers, probably would have agreed.
James Murphy is a founding partner and Alex Hesz is the head of digital at Adam & Eve
THOUGHTS TO TAKE HOME
1. Serendipity is the new planning ahead Products and services that allow spontaneous discovery were everywhere. The provision of an opportunity is becoming more valuable than the provision of an answer.
2. Location, location, location As had been expected, the name of the game was local. Local offers, local context, local images, reviews and offers. And local weather. Which was terrible.
3. The UK is at a crossroads Brits were well-represented among both the agencies (including the big US agencies) and the large technology companies (Google, in particular), but not at the grassroots of what makes SXSW so important: the start-ups. The next generation of innovators. The twentysomething MIT grads sat on the floor in the convention centre with their laptops on their bags, their headphones on and their sleeping bags on the floor of a friend's house. They are still, overwhelmingly, American. Of course, in part, that's logistical and financial. If SXSW were in Leicester or Peterborough, and not Austin, then of course the national mix would be different. But, emerging back at Heathrow, we were left with a nagging feeling at the back of our minds that, while Brits and British agencies are having more of an influence than ever on SXSW, we're not yet in a place where we could credibly build something here to compete with it. And that's a shame. Because we should be.