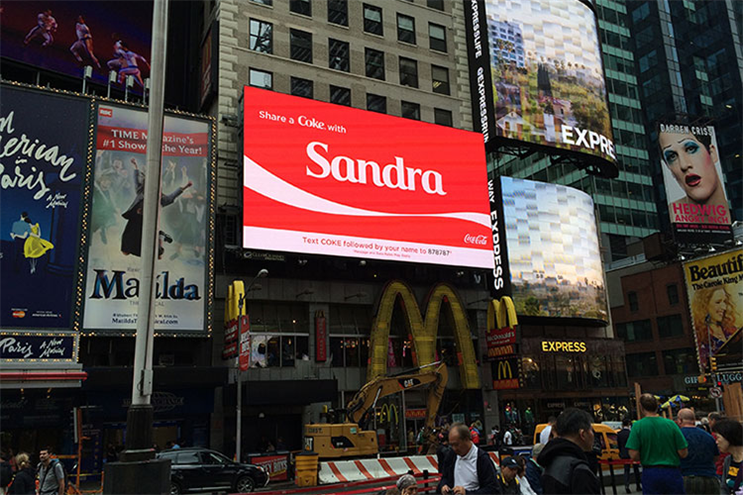 Digital out-of-home's reach, media spend and market share is continuing to grow. In the UK alone, digital OOH spend is forecast to supersede traditional OOH in the next two years.
Digitisation expands the communication potential of OOH and the role it plays in the media mix. From static branding canvas to timely, contextual, and interactive conduit, planners can now fully integrate digital OOH into a brand's broader digital strategy. Budgets are also rising as spending switches to digital channels and clients recognise the broader remit of digital OOH.
But, there is still a nagging sense that creatively the medium could be doing so much more.
Improve creativity – consistently
A number of markets are reaching the scale where specialist digital OOH creative makes sense, there are programmatic models but creative distribution is currently a bottleneck to the buying and planning efficiencies these platforms offer.
While these growing pains are a good sign that the market is in development, the challenges for creating campaigns that span this siloed landscape hinder growth.
One of the major challenges for improving creativity is the diversity of the digital OOH landscape and the lack of standards across vendors. This makes delivering creative for large scale campaigns spanning multiple networks and markets difficult.
Complex file delivery specifications and the inevitable issues with quality assurance can suck creative budgets and create delay. Producing and delivering creative that taps into news, events or different data-feeds such as weather, traffic, or time, can become unmanageable and uneconomical.
Grow confidence
Another hurdle for commanding bigger budgets and meeting the needs of ambitious clients has been the lack of accountability and confidence in the medium.
Yet, these pains signal how far the industry has come. Without them we are stuck with the digital equivalent of a scroller. As digital OOH formats, environments and markets expand, campaign volume grows, and global rollout starts to become the new standard.
The industry's growing pains have become our craft. Now the entire market can master the art of producing and managing dynamic digital OOH campaigns at scale. Digital technology is opening up new avenues for creativity. Digital OOH requires the infrastructure, strategies, systemised workflow and creative toolkits to face the challenges.
That's why QDOT is rolling out our industry-leading platforms to the whole market.
Fit for the future
We're future proofing the industry with our programmatic-ready suite of creative fulfilment and live-reporting tools, opening up the medium's compelling flexibility and providing the transparency and accountability needed to attract new advertisers. Digital OOH is an exciting place to be as we are look ahead to the future age of automation.
Sir John Hegarty says: "Posters are going through a revolution. They are increasingly digital. This throws up enormous creative potential. However the downside is adapting your idea to all the different digital formats. QDOT solves this problem with their OpenLoop platform, it's brilliant. I know, I've tried it."
Integrated with all major digital OOH network providers, QDOT addresses some of the complexities inherent in the diverse digital OOH eco-system, enabling advertisers and agencies to simply and efficiently manage, measure and deliver smarter digital OOH campaigns at scale.
About QDOT
QDOT is the industry's first independent ad-tech company providing all the campaign management tools, workflow intelligence, delivery logistics and play-out reporting needed for end to end creative fulfilment. Through our research, collaboration and ground-breaking trials – we have come to understand the issues and the need for an independent centralised hub with all the tools and services needed to deliver digital OOH campaigns at scale seamlessly.
QDOT's platforms have been delivering results for Grand Visual clients for over six years and are trusted by some of the world's largest OOH media buyers including Kinetic, Talon, Rapport and Outdoor Media Group. QDOT technology has already delivered over 1,600 campaigns, across 40 networks and 38 countries, for world leading brands such as Google, Coca-Cola, Warner Bros, Amazon, Virgin, McDonald's, Facebook, Sky and Disney.
About the author
Based in New York, Ben heads up QDOT and also Grand Visual's business in the US where he has overseen the production of many award-winning DOOH campaigns for clients such as Google, Amazon, Pepsi, Disney and Microsoft.
Ben originally joined Grand Visual after accruing more than 10 years' experience delivering digital media innovation and has built and led project teams in the UK, Holland, and Japan for the likes of Proximity, Wieden+Kennedy and Dentsu.
Ben is an active member of the OAAAs Innovation Lab, a regular speaker at SXSW, DSE and the ICX Summit.