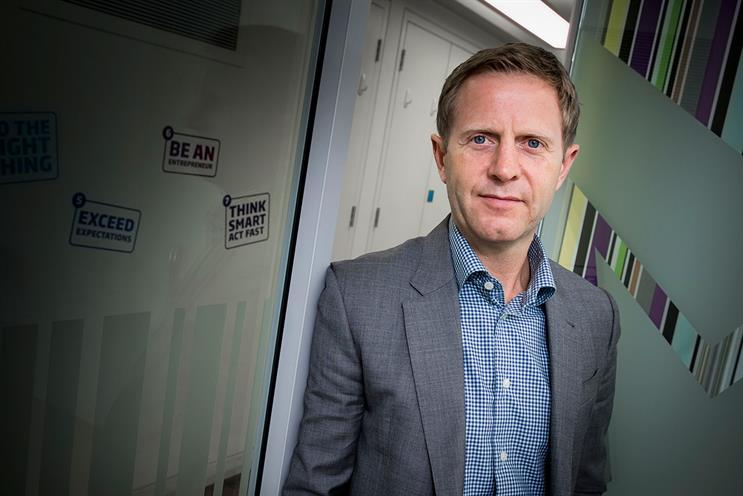 Who are the industry's biggest boundary pushers, the ones who have really made a difference? And who do they most admire? In this series, produced in association with The Trade Desk, we invite the industry's leading lights to interview and be interviewed. Each instalment sees a boundary pusher interviewing one of their peers – who then nominates their own interviewee in turn.
Martin Heaton Cooper, VP commercial development UK at Discovery Networks, is the latest boundary pusher in our series. Jenny Biggam, founder, the7stars, speaks to him...
I know you had a tough start to your career being a grad in TV buying with me at Zenith – how did you recover?
Dropping into Zenith at its heydey was brilliant, and I thought it was best start in media you could get. I loved the team and it was an instant social life for a country bumpkin like me.
You made the move from agency to sales back in 2000 – with hindsight do you think it was the right thing for you personally?
The moment I went into sales I loved it. It was a different kind of pressure, but instant fun. I was lucky to inherit a decent team and recruit new people over the next year or so. We ended up with a lot of breadth on the team – someone in radio, someone in press as well as agency people. Strength lies in diversity of background, but the common link is a sense of fun.
We were little and had to fight really hard, going around lots of agencies. We had charming work-hard-play-hard people and it was just a fun bit of my career. So I never regret moving. I don't know why more agency people don't join us in sales!
Do you think a start in agencies has helped your career in sales?
It made a massive difference to me very quickly. The first thing I was doing was looking at our presentations to see if they were too flabby and long. With my background, seeing other broadcasters come in with long presentations which bored everyone, I made sure ours were short, punchy and really sexy.
What's your perception of media agencies today compared with the heady days of the '90s?
It's much harder work. The relaxed Friday afternoon seems to have more or less disappeared, and it's much more professional. Agencies work really really hard and a lot of that is down to squeezed margins and clients. It's harder to make money. When I see agencies having fun, I really respect that. For me, it would be difficult to find a role back in an agency because I was there when times were a bit easier.
Your team sells sponsorships, partnerships, product placements and other creative solutions for all of Discovery Networks' channels in the UK, but not the spots. Can you explain how different it is selling creative solutions to selling spot advertising?
It's more interesting. It's great to go in with a blank piece of paper and understanding brands and content really well. We love clients who give us a feel for what they are trying to do, and then allow and trust us to be really creative. Nine times out of ten the best answers are content led.
It's changed quite a bit as well. The old fashioned sponsorship is less interesting, and while there's still a lot of value attached to it, you nearly always win on a funky idea. It could be a small idea with very little media value attached, but it just looks really cool – and that will actually be the catalyst to winning the whole deal.
"When I see agencies having fun, I really respect that"
Do you think sponsorships are almost getting a bad rep – people saying it's just badging? Are sponsorships more than just a badge?
What has changed is that there are a lot more opportunistic sponsorships, where it really is just a badge exercise. The ones that really work are over a long period where brands are working together. There are two different kinds of sponsorship – the true kind that really works and then the opportunistic stuff, which we will see at Christmas.
You've recently reappointed Sky Media to handle ad sales in a new long-term deal estimated to be worth over £800m – has it been an exciting year?!

It's been very exciting. We went out to make sure that everyone we were talking to had a fair chance of winning, and it was a fantastic process to be part of. Some days, the winner was changing by the hour. Fair play to Sky in the end, who came up with a great solution. They are great at hosting third-party channel deals. That wasn't the final outcome I expected when starting out, so fair play for reeling it in in the end.
I have just struck a big new deal with LadBible, getting Discovery into a new space. We'll give LadBible's really young Manchester team big chunks of our content and trust them to cut it for online. The deal goes both ways – we get massive exposure for our brands and they share their enormous amount of data with us. We need to build some resonance for the Discovery channel for that young audience. This enables us to get our content out there and build that understanding. I'm really excited by that.
Is it a very creative environment at Discovery and how much autonomy do you get in your role?
I get patches of creativity. Discovery is a big American corporation, and it has some of the stuff that comes with that is less creative. We're connected to our creative department and marketeers, so I'm really lucky to sit in that part of it. But I think as a corporation, we can definitely do more about creativity.
I let people get on with their own stuff – I'm a fairly light-touch manager. I absolutely believe in coaching and mentoring where it's needed and leaving people be where it's not. I would rather make ten decision and get eight right and two wrong than procrastinate and get ten of them right over a drawn-out period. I'm a quick decision maker.
No matter how stressful the work gets, I will always try and make sure we're having fun. I have to have a laugh otherwise, I wouldn't get out of bed.
"We need to build some resonance for the Discovery channel for that young audience."
How do you and your team keep coming up with different ideas and solutions each year?
It's a challenge. We walk around different parts of business asking for thoughts and ideas, leveraging talent where we can. We did a client trip, taking Jodie Marsh out to Morocco for a brand experience, with mountaineering and zip-wiring. She brought the TLC voice, which was very interesting. That was good noise and definitely got talked about.
We just did a tech day at The Story Lab offices, looking at the Amazon Echo and the Microsoft HoloLens – AR devices. We had incredible engagement, so we are going to roll that out. We have to think of things that put us ahead of the game in terms of tech. AR is going to be massive. I took it home and was exploring the universe from my living room! Once you use it yourself you know it's going to be good.
Does industry perception of your channels make a big difference to your job?

We massively benefit from the heritage that Discovery brings. A call from Discovery, followed by a message, sees us ten times more likely to get a call back. It brings some weight and gravitas with it because there's brand recognition no matter who you talk to. LadBible immediately wanted to engage with us and our huge backlog of content because they are in a minute-by-minute battle to find more and more content.
The downside is that there are preconceptions of Discovery based on the last time someone watched a shark or war documentary. We do still do Shark Week, but there's a lot more factual entertainment than anyone would believe. But we work in TV, with the most amazing, multi award-winning creative team which can cut short reels for us to talk around for 15-20 minutes. It's very easy to change perceptions quickly when you have a great creative team behind you.
Where do you see programmatic going next?
We'll be keenly watching the potential development of programmatic TV trading. It could be the next big thing, but it doesn't look like there's a need for bigger broadcasters to rush into it just yet. I'm interested to see how Sky will use their AdSmart to start taking spots that have no value in the current market and suddenly monetising them – creating their own value out of nothing. That will happen sometime next year.
How important is data to you and your team?
We're slightly behind the curve as a more traditional broadcaster, but we've hired a central team to look at our strategy around players. We have Eurosport player and we know a bit about those customers – but we need more – and to make more money out of it. Sky has been appointed now, so we will work out ways of using their incredible access to data. To start from scratch is tough, so we are better off leveraging the relationships we've already got.
How do you attract talent?
We have a great intern scheme. Last year's intern now has a job as executive to the general manager. It's a trend where general managers across world now have a young person working with them. This guy's attached to Susanna Dinnage. It's interesting to have a 23 year-old in our leadership meetings. He sees and hears everything the general manager does. It's a great idea, which recognises that a young influence might send ideas in quite different directions, and it's all based on trust. That kind of thing will help haul us away from traditional telly to become a broader company that fits all age groups and platforms.
---
About The Trade Desk
Recently named seventh on the Deloitte Technology Fast 500, ninth in Forbes Magazine's Top 100 List of America's Most Promising Companies and #34 on the Inc. 500, The Trade Desk powers highly sophisticated buyers in advertising technology.
Founded by pioneers of real-time bidding, The Trade Desk has become one of the fastest growing demand-side platforms in the industry offering agencies, aggregators and their advertisers leading-edge technology to manage omni-channel advertising campaigns.