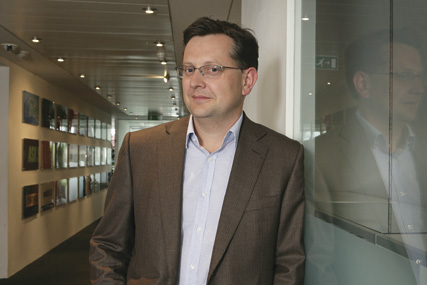 Ian Ellington, the client who paved the way for the solitary British Grand Prix at this year's Cannes Festival, opted for domestic harmony rather than share his agency's place in the sun.
"I was set to go until my wife reminded me we had tickets for Wimbledon," the Walkers Snacks general manager says. "I would have regretted letting her down."
So while Abbott Mead Vickers BBDO produced all the winning shots to capture the first-ever Grand Prix for Creative Effectiveness (for its Walkers "Sandwich" campaign), the Ellingtons were watching Venus Williams and Maria Sharapova doing much the same to their early challengers in London SW19.
Ellington, though, is delighted but not surprised at AMV's triumph. He remembers the reaction of the Walkers staff the first time they were shown the "Sandwich" work. "They thought it was brilliant," he declares. "It made us feel proud to be working at Walkers."
The Grand Prix won't make any difference to his business but, as he explains, that's not really the point. With the best young marketing talent now having such a broad range of options, FMCG companies aren't the magnet they once were - and anything that might persuade them to join a company such as Walkers has to be a good thing.
For Walkers, the task of attracting the top talent has been made all the harder by the obesity issue that began emerging around 2005 and turned snack-food companies into what Ellington describes as "the lightning rod" for all the negative publicity surrounding Britain's unhealthy eating habits.
Since then, an ongoing programme of reformulating its product portfolio - including Doritos, Quavers, Wotsits, Monster Munch and the market-leading Walkers brand - has steadily reduced salt and unsaturated fat levels while precipitating a marketing communications programme now significantly broader than when Gary Lineker began fronting Walkers' TV commercials 16 years ago.
Certainly, all of Walkers' most recent work - "Sandwich" and the "do us a flavour" initiative included - symbolises a breezy self- confidence that Ellington seems to embody. "If we don't instinctively love an idea, we don't do it," he says. "We trust our gut feeling."
Ellington, who commands an annual adspend estimated at around £30 million, also cites a close-knit team as the key to success.
It comprises not only AMV as the creative catalyst but also Freud Communications, the Walkers PR agency, and Paul Weiland, who has directed many Walkers commercials down the years and ensures the work is creatively consistent.
Much of Walkers' self-assurance about extending its messages beyond TV has been born out of its experience with digital media, of which it was an early adopter.
"We decided we had to get into the game," Ellington says. "Volumes on our Walkers brand were dropping among young males and we knew we needed to do a better job of engaging with them.
"At the same time, Doritos, on which we'd not been spending much above the line (mainly because we were putting most of our efforts into reformulating Walkers), was also targeted at that core male audience."
It was against such a backdrop that the "do us a flavour" competition was launched in 2008, attracting more than a million responses to the company's invitation to find a new Walkers flavour.
Ellington acknowledges that there were some within the company who questioned whether this was such a good idea.
"We weren't actually selling anything," he explains. "The only call to action was to ask people to send us their suggestions for a new flavour. It was also the first time we'd employed PR to a massive extent."
Since then, the "do us a flavour" concept has been exported to 30 other markets.
"Sandwich" grew out of the company's observation that while it made good money out of people eating a packet of Walkers with their lunchtime sandwich, it hadn't been putting enough emphasis on "meal deals" with retailers.
Wisely, Ellington turned down an early AMV idea for a campaign involving "twinning" Sandwich in Kent with Crisp in North Texas. This suggestion foundered on the fact that Crisp is now a ghost town with a population of less than 100.
Ellington actually kicked out three creative briefs - "They were either not single-minded enough or uninspiring and tried to pack in too much" - before the "eureka moment" arrived. "I knew immediately it was right," he says. "Everybody was grabbed by it."
Proving that Walkers could make sleepy Sandwich exciting was a logistical headache. Not least in keeping what was to happen secret from everybody but a few locals.
The rest were gobsmacked as Jenson Button did a shift as the town's taxi driver, Al Murray and Pamela Anderson pulled pints at the local pub, Frank Lampard coached the town's football team and JLS turned up unannounced for a gig at the local school.
The resulting TV, internet and PR campaign led to a revenue growth of 26 per cent, exceeding the 15 per cent growth target.
The big question, though, is what Walkers can do for an encore. "This has inspired us to do something better and we will," Ellington promises. "We're looking at a couple of things for 2012 that have the potential to be very engaging."
But while a "Sandwich" replacement is on the cards, Ellington insists there are no plans to show Lineker his first red card.
He admits the company thought hard about a change at the height of the obesity crisis but is glad it stuck to its guns and that Lineker chose to stay when he would have been justified in calling it a day.
"It's such a flexible campaign that I can think of no reason why I'd want to change it," Ellington says. "In fact, I believe it's the single most effective campaign in the UK right now."
Meanwhile, he expects his relationship with AMV to remain healthily combative: "We disagree all the time about creative work. That's why it keeps getting better."
THE ELLINGTON LOWDOWN
- Tipped for the top
Described as unassuming and modest by those who work with him, Ian Ellington is nonetheless tipped for a top role at Walkers' PepsiCo parent. Indeed, his current job has already proved a springboard to higher things. His predecessor, Richard Evans, is now PepsiCo's UK and Ireland president.
- Balancing the books
Although he's the son of a financial controller at Lloyds of London and his sister is an accountant, Ellington opted to read business studies at Bradford University with a view to working in marketing.
- A trip to Mars
Ellington joined the graduate trainee programme at Mars in 1991. "It's a fantastic place to learn about brand positioning," he says. "The Mars family are brand-builders at heart." During a 17-year rise through the ranks at the confectionery giant, which included a spell in France, he led the development of brands including Maltesers, Celebrations and Galaxy.
- Bagged by Walkers
He joined Walkers as the vice-president of marketing in 2008, replacing Jon Goldstone, now the Premier Foods marketing chief. Ellington was named general manager in October 2009.