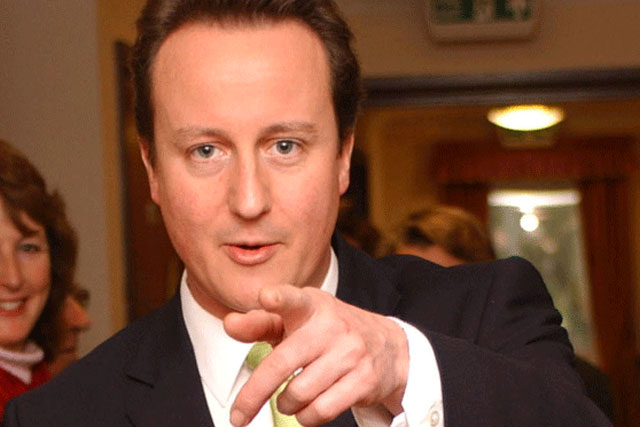 Prime ministers and senior politicians love to point the finger at what they see as irresponsible marketing.
Last month, David Cameron fired a shot across the bows of the gambling industry.
During prime minster's questions, Cameron responded to a backbench MP's question about the amount of betting advertising on TV – 32-hours a week – and a call for him to "protect" consumers from such ads by ordering an Ofcom review.
Cameron's response will have set alarm bells ringing in the minds of marketers.
"Anyone who enjoys watching a football match will see quite aggressive advertisements on the television and I think those companies have to ask themselves whether they are behaving responsibly when they do that", was Cameron's reply.
Nonetheless, he seemed to rule out an Ofcom review, saying the ads were already strictly regulated.
The prime minister has form when it comes to attacking marketing – as opposition leader he criticised WH Smith for offering shoppers cut-price Chocolate Oranges at the checkout, "rather than real oranges", despite the obesity crisis.
The retailer is still running these promotions.
He has also linked the premature sexualisation and commercialisation of childhood, highlighted the pricing policies of energy companies, demanded that banks pay back customers "unfair" charges speedily, and railed at the drinks industry for supplying cheap alcohol, particularly in supermarkets, for fuelling a culture of binge-drinking.
Neither was former prime minister Tony Blair averse to giving brands a kicking. He drove the introduction of restrictions on advertising snack foods to children and a total ban on cigarette advertising.
So how should marketers respond when those in power decide to stick a well-polished Oxford brogue into their brand, sector or industry? We outline some considerations worth bearing in mind.
Be pre-emptive, use official channels
Dominic Grounsell, former marketing director at financial-services brand Capital One and now marketing director of More Th>n, believes marketers should engage with politicians and regulators to head off criticisms.
"If there are issues and challenges that exist, it is always worth marketers connecting with them to get ahead of regulation", he says.
"We all operate with a licence from the government, parliament and regulatory authorities. The closer the organisations work with regulators, the less these issues tend to come about, as there is mutual understanding.
"I would hope marketers want to work in organisations that are on the side of the consumer and are doing the right thing for them, making it less likely that you draw those criticisms", explains Grounsell.
Cameron's comments seem most clearly aimed at Bet365. The online gambling brand's ads tend to appear in the first spot in breaks before and during big football games, with actor Ray Winstone adopting his usual East-End persona and telling viewers to "bet in-play – now".
The company refused to respond to the PM's comments, and would not confirm whether it is following his advice to consider how responsible its advertising is.
However, Christian Cull, the former BSkyB and TUI communications chief, says Cameron does not need to play parent to the public.
"We don't need a daddy for our marketing as long as we are offering responsible campaigns", he argues.
"Most people who use gambling sites do so in a fairly relaxed way for a bit of pleasure. Would he want to discourage that? This is a growing industry, a success story offering a bit of fun - you'd get better odds on Chelsea winning away than on David Cameron legislating against gambling advertising."
Don't ignore, but don't overreact
Some think that Cameron's comments in the House of Commons were simply a personal opinion. "An MP asked a question and David Cameron said 'I don't disagree'", says Giles Gibbons, who runs corporate responsibility consultancy Good Business, which he set up with Cameron's strategy director, Steve Hilton.
Rather than the prime minister trying to make "political capital out of it", Gibbons says Cameron was simply behaving "as a decent human being and having a point of view".
He adds that most companies have systems in place to ensure their marketing is responsible. Combined with advertising codes of practice, the public should be reassured that marketing is being done responsibly.
"As a business it is incredibly important to listen to your stakeholders", warns Gibbons. "If they are important enough, it is worth adapting. In the end, a prime minister's comments do have an impact – they can regulate."
Understand the public discontent
Crisis management expert Jonathan Hemus, director of Insignia Communications, warns that simply ignoring criticism from a prime minister is not an option, unless he or she is deeply unpopular with the public.
"It's when the actions of businesses clash with public expectations that politicians tend to get involved", he says. "Their success depends on tapping into the public mood, so they will jump on the bandwagon when corporate behaviour seems inappropriate."
Businesses must establish how far such criticisms truly reflect public discontent, he notes. "McDonald's is a very good example of a business facing an issue that threatened its reputation – childhood obesity – and responded positively to reshape its business and change its approach", adds Hemus.
Be wary of disruptive, tactical marketing that crosses the line
Another consideration is the way in which challenger brands attempt to disrupt markets with controversial ad campaigns and comments from their chief executives. Paddy Power and Ryanair have both drawn criticism for their tactics.
One source says that payday-loan company Wonga.com has focused the spotlight of criticism on the whole consumer credit market with its brash advertising and high interest rates. Two Early Day Motions have been tabled in parliament condemning the company's practices.
Nonetheless, a spokesman for Wonga deflects the criticism, saying it is "always happy to engage with anyone who has concerns or an interest in Wonga".
If any industry finds itself in the spotlight for the wrong reasons, it will be those marketers who have remained alert to public sentiment who will protect their brands from negative associations.
They will be able to fend off criticism – even if it is from the most powerful man in the country.
Inside view: Kristof Fahy, chief marketing officer, William Hill
Betting is a huge part of the way many people in the UK enjoy their football.
Our ads are designed to be entertaining, and relevant with live odds. We want to encourage people who bet to do so with William Hill.
I wouldn't view our ads as "aggressive" – that is not what William Hill is about as a brand. You could view the comment as a little rich, given the usual tone and nature of prime minister's Questions.
Perhaps the PM should focus on that before pointing fingers.
What should a marketer do if ministers make disparaging comments about their industry or brand? It depends on the context. My view would always be to look for the opportunity to respond in a way that reiterates your brand's values.
That may need to come from an industry body or your chief executive, depending on what was said, but brands need to respond appropriately.
MPs are just as prone to rash opinions as the rest of us and it's wise to ensure that your brand defends itself.
In focus: David Cameron vs marketing
The prime minister has shown that he is prepared to get tough on marketing.
He promised to crack down on retailers and broadcasters for irresponsible marketing to children while in opposition.
Within months of coming to power, he ordered the Bailey Review into the commercialisation and sexualisation of childhood.
Cameron hailed the report, published last June, as "a giant step forward for protecting childhood and making Britain more family-friendly".
He threatened tighter regulation unless the industry made progress on the issue in the following 18 months.
The British Retail Consortium published a new code of conduct and the Advertising Association (AA) set up an expert advisory panel in response.
The AA's position is that the advertising industry needs to improve the way in which it expresses its worth, instead of constantly being on the defensive.
Tim Lefroy, the organisation's chief executive, says, "Politicians should not lose sight of the fact that advertising works for people, not against them. Advertising is a lightning rod and off-the-cuff criticism is a fact of life, but we should not forget that without advertising we are all worse off".