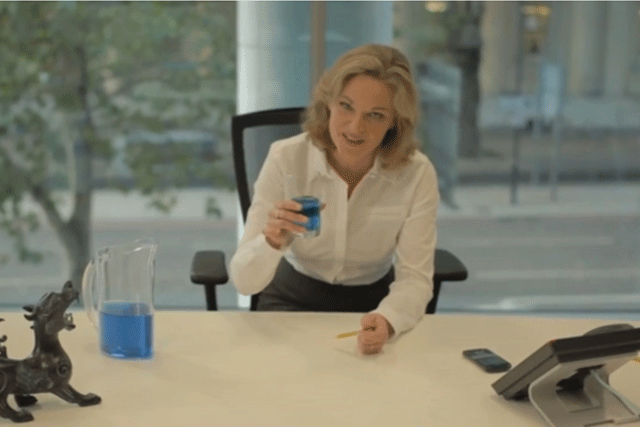 Cleverly contrived PR stunt or not, Bodyform's wonderfully sarcastic response to a posting on its Facebook page received credit from all quarters.
The video, created by Carat and Rubber Republic and released on YouTube last week, featured a fictional Bodyform chief executive gently poking fun at a post made by a supposed "Richard Neill" expressing disappointment when he found out the menstrual cycle was not as depicted in its ads. The film quickly, to use that obsolete term reminiscent of the past decade, "went viral" and was picked up by the mainstream media.
Creating advertising in response to a comment made on a social media platform isn't a new approach - Paddy Power's agency Crispin Porter & Bogusky based a long-running campaign around this. It suits the online bookmaker's limited budgets and irreverent approach and generates banter between itself and its target audience.
But for an FMCG brand to follow suit, particularly one in the feminine hygiene category, which traditionally eschews edgy in favour of playing it safe (and Bodyform has been a largely dormant brand in recent years), was surprising. It showed that Bodyform had a sense of humour.
It also begs the question that, if Bodyform can pull it off and with such success, surely other brands will follow suit? But is this a long-term strategy for brands?
In reality, such stunts can be compared to tactical press ads that responded to something newsworthy or topical of old - they require agencies to be fleet of foot in turning around the ad to ensure it is still timely and relevant. In that regard, they are just another useful weapon in a marketer's armoury - albeit one that has become amplified and more potent because of the explosion of social media channels and the corresponding opportunity to interact with the public.
The key to success, however, is to start with the business and advertising strategy and then define what social can do, rather than the other way round. Too many brands still start out with the objective of garnering Facebook "likes" without actually realising what they are for and what they can do with them.
A case in point could be the Mercedes-Benz "#YOUDRIVE" campaign, created by Abbott Mead Vickers BBDO, in which viewers could decide the outcome of its TV ad by using hashtags on Twitter. Pioneering, definitely - but arguably with an ill-defined outcome. An example, perhaps, of doing something in the social space because you can, rather than because you should.
Tom Rothenberg, the chief growth officer at McCann London, says: "What's clear as day is that social media is here to stay. And, now it's here, brands are going to want to be in and around it, for very good reasons. Platforms like Facebook and Twitter are an unparallelled way to have a fast, two-way, public dialogue with people who love you. Or hate you. Or want to rile you. You will get all sorts."
Few doubt that more clients will engage in such conversations as they become braver - something that Bodyform has certainly done. However, there is an inherent danger of artificially seeding a Richard Neill-type comment. The populace sniffs artifice and is likely to react as negatively on social media as it is positively to something that appears to be genuine.
AGENCY HEAD - CARRIE HINDMARSH, CHIEF EXECUTIVE, M&C SAATCHI
"Whether using social media ideas to inspire communications is a long-term strategy is highly dependent on both your audience and your brand.
"Paddy Power is an irreverent brand with a structured marketing calendar and a product built around men's undying passion for sporting events, so tying social, PR and marketing together works well for it and it is punching well above its paid media weight.
"I believe the truth is different for Bodyform, where, beyond product launches and commenting on its own advertising, I suspect it will struggle to maintain the fresh and PR-worthy dialogue that an effective social media comms strategy demands. So, in this case, it's probably a tactical activity. A very clever one, nonetheless."
SOCIAL AGENCY HEAD - JAMES KIRKHAM, MANAGING PARTNER, HOLLER
"When a brand tailors a response to an individual's perspective, consumers view them as 'on it', accessible and human - and the brand gains huge acclaim. Way back in 2008, EA Games set the standard with its 'Tiger Woods walks on water' film - a witty and effective riposte to a know-it-all gamer who had taken to YouTube to expose a game glitch.
"Social platforms like Facebook rely on content more than ever, so creating content in response to social comment is both a natural step and the difference between a brilliant one-off and a strategy.
"If a brand seizes the moment to speak to its audience with surprise-and-delight strategies, then whole social spheres can share in the experience through their feeds."
CREATIVE HEAD - RICARDO FIGUEIRA, DIGITAL EXECUTIVE CREATIVE DIRECTOR, JWT LONDON
"A brand responding to people is definitely a long-term strategy wherever they are, especially in social media, where everything relevant or surprising echoes.
"I think Paddy Power does it really well, taking advantage of its tone of voice to deliver this experience in a funny and authentic way, but also consistent with 'we hear you'.
"Bodyform has a very nice message, but it's a big disappointment when you discover that the thing we liked the most in the film is fake: the chief executive. So what's for real? Richard's post?
"It looks like using responses on Facebook as the narrative is becoming common. Brands might continue to use this, but it won't be surprising any more."
CREATIVE HEAD - WAYNE DEAKIN, EXECUTIVE CREATIVE DIRECTOR, JAM
"Responding to social media questions and comments can be a long-term strategy. Cranking out content at the Bodyform level is a costly endeavour, but the rewards are great.
"Brands are slowly coming to the reality that you can't adopt an old-school broadcast mentality to their audience. Online, you can really know your audience - you can pitch it just right and steer away from the creative needing to be dumbed down.
"I can't imagine the Advertising Standards Authority approving 'the blood coursing from our uteri like a crimson landslide' but, online, it's bang on-tone - it gets a chuckle from the original problem poster and gives the consumers a flashpoint to rally behind. Stupid man. Period."