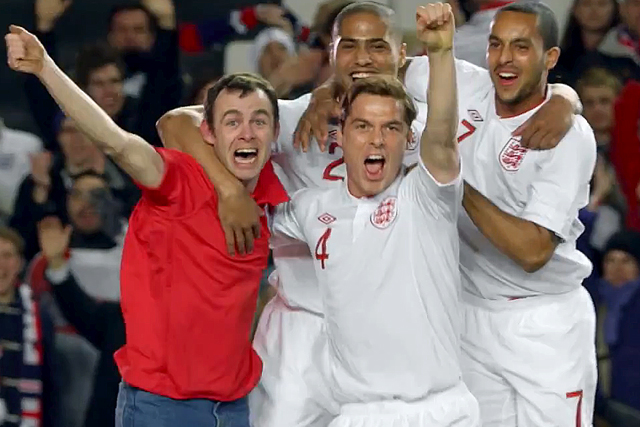 The proliferation of social media has offered marketers an unprecedented opportunity to become part of 'the conversation' and amplify their media investment.
Brand View: Daryl Fielding, Kraft Foods Europe
Twitter feed: Reaction to Mars' Euro 2012 ad
However, it has also allowed instant reactions from consumers, often in the form of vitriolic criticism. Last week, a flurry of negative comments appeared on Twitter about the latest Mars ad, created by Abbott Mead Vickers BBDO, featuring a Mars-bar-eating steward who saves a penalty for England from Holland striker Robin Van Persie.
Tweets included comments such as 'one of the cheapest, worst ads ever,' and 'the most pitiful ad I've ever seen'. These were balanced by comments praising the ad as 'brilliant' and 'hilarious'.
Forum for debate
Mars claims the overall reaction on social media has been positive. It says that it welcomes conversations about the brand and 'recognises that social networks are a forum for discussion and debate'.
However, the damning commentary of a minority can take the shine off an ad, not to mention the marketing director's 'moment'.
John Lewis discovered this with its Christmas 2010 ad, featuring a shot of a dog kept by a kennel in the snow, sparking accusations from dog lovers on Facebook that it encouraged mistreatment of animals. The shot was cut as a result of the feedback.
While campaign feedback traditionally comes from in-depth pre- and post-testing, the ability to gauge public reaction when an ad breaks is too tempting to pass up.
Turning sour
How should marketers respond, however, if the commentary on Twitter or Facebook turns sour and risks undermining a launch?
Pete Markey, chief marketing officer at More Th>n's parent RSA Insurance Group, argues that brands need to avoid knee-jerk reactions. 'As an individual, you may only see a dozen comments, so you need proper tools to judge it.
In the More Th>n Freeman campaign, just 6% of comments on social-media sites were negative, but there is a danger you might overreact based on that,' he says. Markey adds that care needs to be taken to distinguish the social-media audience from the target audience, as they may be poles apart.
Negative reaction
While the temptation might be to try to shut down the commentary or question the ads in light of negative reaction, marketers and ad agencies would do better to hold their nerve, according to Robin Grant, global managing director, We Are Social.
He points to the experience of pain-relief brand Motrin in the US, which axed a campaign in 2008 after negative comments from 'mummy bloggers' on YouTube and Twitter.
These were picked up and amplified by paid-for media. Further analysis revealed that only a handful of mothers were critical, and it was generally felt that the company had been too hasty in pulling the ad.
Meanwhile, in the case of the Mars ad, Grant says: 'The important thing is to quantify and qualify the response. If there is an outcry about an ad, the advertisers need to take note. If it is during sarcastic commentary about a football match, that is not what I would call an outcry.'
Mobilising advocates
When there is divided reaction to an ad, brands should trust that their best advocates will rush to their rescue (see brand view, below).
When Molson Coors launched its Jean-Claude Van Damme ads for Coors Light, it attracted a huge number of 'likes' and 'dislikes' on YouTube and became the most-shared beer ad in the UK.
Glen Price, senior brand manager, Coors Light, says: 'If there is a negative side, advocates will come in with a more positive view. Advertising is polarising, so marketers need to understand the effect it will have on non-target consumers as well.'
However, if the groundswell of opinion moves decisively against an ad, the marketer responsible may feel they have little choice but to pull it.
Aviva and Downton
This was the case with Aviva's Downton Abbey idents last year, which told the true story of a man who lost his job after a motorcycle accident.
Kevin Peake, Aviva's director of sponsorship and brand, says the company acted despite the negative comments being on a relatively small-scale.
'The idents were researched, but the real issue that people complained about was that there were too many commercials on ITV during Downton Abbey,' he contends.
'There weren't that many adverse comments about the idents; they didn't even reach the hundreds,' adds Peake.
'However, consumers have a right to tweet and as a listening brand, we need to ask ourselves whether they have a point. Most marketing directors view social media as a way to be kept on their toes - it forces you to take part.'
One critic of the Aviva idents was Richard Huntington, strategy director at Saatchi & Saatchi, who tweeted that he thought they 'spoilt the viewing experience'.
Nonetheless, Huntington warns marketers against listening to instant social-media criticisms, as these might often come from rivals or people in the ad business, rather than the public. 'You have to have a strong stomach when you put your ad out,' he adds.
Power of protest
Another brand that felt the force of negative social-media commentary last year was Phones4U, as the result of its horror-themed ad featuring a ghostly little girl in a car park; it caused a storm of protest last autumn. The main criticism was that the ad was unduly frightening and unsuitable for children.
Phones4U head of brand communications Caspar Nelson says that, initially, only a few people objected, even though more than 600 complaints were eventually made to the Advertising Standards Authority, which went on to clear the ad. However, he claims the debate had the positive effect of amplifying the message.
'We reviewed our campaign in light of the comments, but decided to continue with our strategy. Advertising is about creating impact and encouraging debate,' he adds.
'We always listen to what people say via social-media channels, as the opinions expressed help to provide valuable insights across many departments in our business.'
Outpouring of sentiment
When Kimberly-Clark switched the 'real' Andrex puppy for a CGI version late in 2010, it viewed the outpouring of sentiment - negative and positive - as a victory.
At the time, Troy Warfield, vice-president for family care, Europe, said that whether people loved or hated the commercial, they were, at least, now having conversations about the brand.
Confidence in your campaign is key, says Daryl Fielding, vice-president of marketing, Kraft Foods Europe (see below).
'Any brand with a high-profile TV campaign coming out would have a measure of any negativity beforehand. This should give them confidence that the ad is not universally loathed.'
Additional reporting by Rachel Barnes and Alex Brownsell
BRAND VIEW
Daryl Fielding, vice-president of marketing, Kraft Foods Europe
As a brand, you have to be ready to mobilise, whether it's a good or bad reaction. The most important thing is to respond sensitively, and not overreact. As with a conversation, if it's sensitive, then know when to shut up and when to speak. You have to look at it with the rules of a conversation, not the rules of marketing.
If the reaction is bad, it is not possible to shut down the negativity. However, an elegant response can mitigate the problem if you are smart about it. As with any conversation, discretion is the better part of valour.
If the response is 'It sucks', then there is not a lot you can do. If, on the other hand, what they are saying is not true, then there is legitimate reason to step in.
What we have often found is that your own community will leap to the defence of you and your brand, particularly if the comments have been unfair or nasty.
Today, any marketer with a big appointment to view a campaign coming out should have their community team briefed and ready for the online reaction.
Every marketer is out to get a reaction and spark conversation. The worst thing that can happen is being completely ignored.
TWITTER FEED: Reaction to Mars' Euro 2012 ad
Damion Roberts @damionroberts
7:00 PM - 15 Apr
How have we got to the point whereby a confectionery co. can run an ad showing that if you eat their choc bar you become a top athlete? #mars
chris place @place77
7:01 PM - 15 Apr
That Mars ad on ITV1 is one of the cheapest worst ads ever #crapad #mars #cheap
Damon Whitbread @Dwhitbread17
7:02 PM - 15 Apr
"@ashbrierley: That mars bar advert is terrible !! #runoutofideas" was just gonna say that! Almost as bad as that Venky's ad! #pony
Martin Higgins @SMAGUdeBAGU
7:03 PM - 15 Apr
That #Mars ad with Scott Parker and Glen Johnson then, might go down as the most pitiful advert I've seen. Ever.
One Man Army @MrAndyPD
7:03 PM - 15 Apr
RT @amillionnairre: LOOOOOOOOOL That Mars Bar Ad OMD So Fake
Ben Goodson @BenGoodson_28
10:06 PM - 16 Apr
Not gonna lie that Mars ad was pretty good. I could learn some serious skills from the man with the high vis jacket. #mars
penny sparwell @pennyspar
10:32 PM - 18 Apr
The new Mars ad is brilliant!