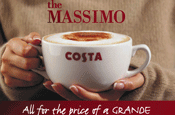 Agencies have been approached to pitch for the business, which includes the brands Premier Travel Inn, Beefeater, Brewer's Fayre and Costa Coffee.
Whitbread is keen to explore its options ahead of a significant increase in activity. The company currently spends £3 million on UK media, but is backing the planned relaunch of Premier Travel Inn as Premier Inn with a £9 million spend. The company is also holding a pitch to find an agency to handle creative for the relaunch (Campaign, 10 August).
Recent advertising activity has included an integrated campaign for the Beefeater chain to promote summer eating at the restaurants.
After winning the business in 2005, Starcom has since seen the TGI Friday chunk of the account move to Initiative after Whitbread sold the company.
Whitbread has also since disposed of the David Lloyd Leisure business to reduce its debt levels and to focus on hotels, restaurants and coffee shops.