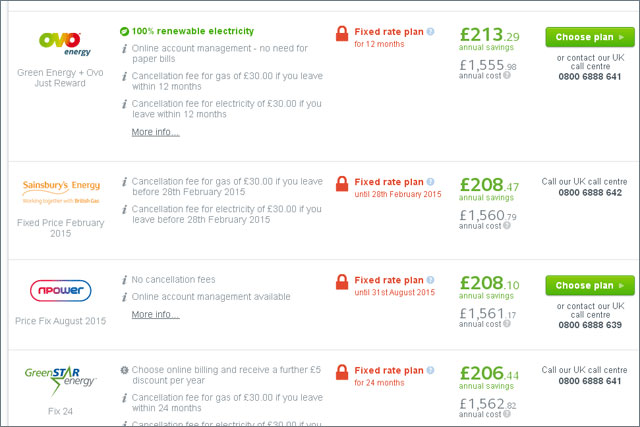 Ofgem has been attempting to increase transparency in the industry, but its Retail Marketing Review (RMR) rules do not yet cater for white-label brands.
An Ofgem spokesman told Marketing that it needed to give "further consideration" to the right regulatory framework for the white-label business model and, as a result, will be publishing a call for evidence at the end of this month.
He added: "In the interim, we have granted an exemption from certain RMR rules until 31 December 2014 for white-label providers that were in existence on or before 1 March 2013."
British Gas partnered with Sainsbury's and SSE tied with M&S to launch white-label brands under the Sainsbury's Energy and M&S Energy brand names before March last year.
The exemption includes the tariff-cap rule, which means until 31 December this year, the tariffs offered by Sainsbury's Energy and M&S Energy are not included in British Gas and SSE's four core tariffs.
There is no obligation for the white-label brands to match British Gas and SSE tariffs during the period of the exemption and while the exemption is in place, suppliers have no obligation to tell customers about the cheapest tariffs of their white labels.
This morning, a three-bedroom family house on a standard tariff in south-east London using British Gas would save £208.47 by switching to Sainsbury's Energy, according to a search carried out this morning by Marketing on price comparison site uSwitch.
An energy insider claimed: "The reason you have white-label products is to get that brand equity and the much higher level of trust and value and all the other things associated with that brand.
"They also don't want to cannibalise their own customer base as well, because if they have got people paying higher prices on standard or their own fixed prices, they don't want to launch a really cheap fix under their own banner because then they would be undercutting themselves."
An SSE spokesperson said: "Suppliers are required to tell customers about their own cheapest tariff in written communications like bills, annual statements and letters.
"This does not currently extend to white-label brands, although Ofgem is considering implementing changes at the end of 2014."
A British Gas spokeswoman said the company would not be including Sainsbury's Energy price comparisons in communications with British Gas customers.