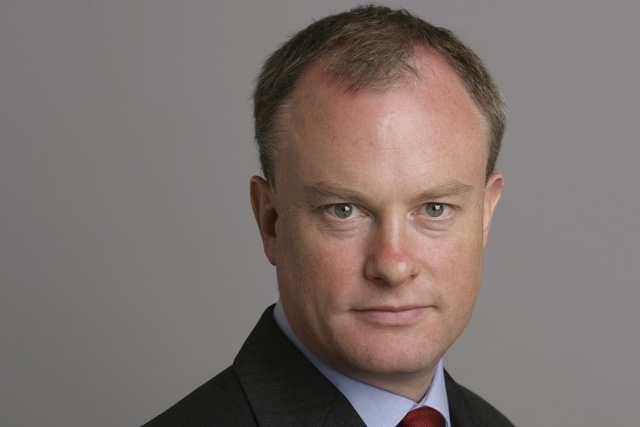 You had to be up with the lark to catch yesterday's briefing, which kicked off at 7.45, but this did not deter people, as the room was so packed that a few unlucky attendees had to stand for the hour-long event.
Introducing his plan, while the Government Communications, executive director – to give him his full job title - made the usual noises about "efficiency" and "effectiveness", he also ventured further, declaring that he wanted departments to do "exceptional" work.
It was also notable that Aiken not only steered clear of trashing the past, but made a deliberate point of complimenting marketing activity created under the last administration, paying tribute to Public Health England marketing director Sheila Mitchell and former COI boss Mark Lund. Aiken also admitted that "government communications has been through a rough time".
Nevertheless, he talked tough on the need for more evaluation of activity and expressed frustration that central government marketing functions did not "pay enough attention to metrics".
The ebullient Aiken has a dizzying amount of strategies, events and initiatives on the horizon; the next one is a government communicators conference timed to coincide with his 100th day in the job next week.
Then a few weeks later, he is publishing a proto-type campaign plan for government communications, his vision of the steps that should be taken by all marketers when creating work.
"We're open for business," was the conclusion to his introduction. Afterwards, observers welcomed the former Conservative Party apparatchik and Westminster Council PR man's sense of purpose.
Marketing caught up with Aiken to find out his views on working with brands, standing up to ministers and that controversial ad agency review.
MKTG - You recently published the partnership guidance which aims to make it easier for brands to participate in government campaigns like Change4Life. Are you hoping that this will spark more brand involvement in Whitehall marketing?
AA - "Public service communications can help support the industry and I think, in turn, brands and the industry as a whole can help improve government communications.
"Peoples' perception of who constitutes authority is changing and some of the best brands have a voice and an influence with consumers where government needs to be.
"The partnership guidance was issued to say to people that you have permission to come together. You do need rules to protect both sides but I do think they are now light-touch and if they're too onerous we'll change them if we need to. I want to see some great campaigns come out of this."
Why did you include a chapter in your plan on professionalism and propriety? Is concern ministers will put pressure on departments to use government marketing cash for political purposes as election time grows closer?
"This plan has three purposes. One is to set standards, the second is transparency on what we do, the third is collaboration with the industry about how we can improve government communication to make it exceptional.
"If you're working with public money - and in a political environment - then you have to be very clear about the propriety standards and the boundaries that you should not cross.
"I wanted this in there so the plan enables people to understand the standards of work and their standards as civil servants to be objective and impartial and offer the best advice.
"Offering the best advice to ministers also means being, to some extent, fearless; offering honesty, speaking the truth to power. So the advice is there to help people understand the boundaries and offer the best marketing advice."
How did you manage to shave £40m from £285m marketing budget for 2012/13?
"That's the aggregation of lots of small savings. We said to people presenting a £10m campaign to us, we think you can do this for £9m if you employ more digital communications and did less broadcasting at audiences.
"The ERG [Efficiency Reform Group which approves marketing campaigns] process does self-select, people are not going to bring things into us that we are just going to say no to. Occasionally, we would say that we're not satisfied with the project, but the department has a need to fulfil it so we go away and work with them. So £5m might become £4m or £3m but we don't just tend to say 'no'."
You're reported as saying you want government campaigns to shift from a reliance on paid-for marketing to a 'PR-first' approach. Is this based simply on the need to reduce spend or is there an effectiveness element involved?
"There are a couple of things going on. First, I've got to re-educate the communications professionals. I want to see more campaign managers and less of an emphasis on what is termed strategic communications. I need communicators to be hands-on. I feel that we haven't got enough skills in managing campaigns and I want to place an emphasis on public relations in the widest sense. I want people to think about who their stakeholders are for each campaign, to look at low cost campaigns.
"But there is still a central and huge role for marketing. The bulk of the [2013/14] £237m project spend is going to be marketing expenditure but I need that to change from a tendency towards broadcast to more sophisticated digital communication. So it's a shift of emphasis."
Some of the ad agencies involved in effective campaigns from recent years are no longer on the Government roster following the recent review of the creative framework. When you look back on the process, do you think it achieved what it was supposed to do?
"I support the process. It was 60% based on the quality of applications and 40% on price. It was evaluated by some of the government's top marketing and public relations professionals [while led by the Government Procurement Service]. It was a new process and it recognises the realities of where we are today; we needed to get better value from our communications.
"While the process was correct and delivered legally and satisfactorily in almost every way, I think we could have engaged earlier, I think we could have talked to the industry earlier. That is a lesson I will take out from it, that is why I went to Liverpool to meet with the GPS [Government Procurement Service] to deliver that message directly to the GPS chief executive. We can improve the process but it's fundamentally a sound approach to procurement.
"We are implementing some of the changes about early engagement with the further framework agreements that are coming down the track now. "