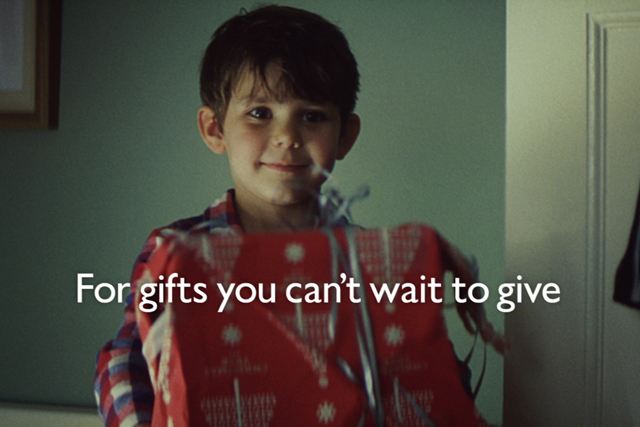 RUSSELL RAMSEY - executive creative director, JWT London
OK, I'll 'fess up straight away. I'm crawling up the walls with jealousy over one Christmas ad this year.
Who wouldn't love an ad that has been so beautifully put together? A sweet, simple story follows a characterful little boy who can't wait for Christmas Day. The long time length means there's room for lots of interesting touches. The director and creative team have thought about every scene. The spinning chair shot, the nativity dressing-up shot and the wolfing down the peas shot. Then there's the music. A slow, sad, emotional song that's not really Christmassy at all, but that's what's so refreshing about it. You also have to wait right until the very end to find out who it's for (John Lewis).
This ad is as much about what isn't in it as what is. No Christmas music, no celebrations, no shots of presents being unwrapped to joyous expression, no panning food shots. No smiles. Until the end, that is. It doesn't even tell us what you can buy there.
If you're going to leave all this out, boy, you better deliver on emotion and charm - and they have in spade-loads. This ad was hyped up before launch and I'm guessing that was no accident. A PR initiative and a seeding programme were put in place to get people talking about this even before it was on TV.
The other Christmas ads in the bunch are rather more formulaic. Festive music, smiley faces, mince pies, Christmas pudding etc. They all make a decent job of it. Much like they did last year and the year before. Marks & Spencer has used the cast of The X Factor, which is clever and topical, but maybe the ad feels like two different ads welded together. Morrisons uses Freddie Flintoff to guide us around the perfect Christmas Fayre. Bruce Forsyth appears at the end with a terrible joke, but it is Christmas, after all.Sainsbury's has a nice ad, which starts with a pantomime horse on a tandem.Tesco's offering is a feast of mince pies, Christmas pudding and turkey, which spans the whole of the UK. Argos is a group of aliens who can't work out why we shop the way we do at Christmas.
All quite nice, but none of them quite like John Lewis.
ADAM KEAN - executive creative director, Publicis London
Christmas is compulsory, Garrison Keillor said. And like a thunderstorm, we all go through it together. The thunderstorm on TV gets earlier every year, which means the ads not only have to be good, but resilient. If they wear out too early, the law of diminishing returns kicks in. My memory of the Woolworths extravaganzas of the 70s was that they didn't arrive until late on - you almost looked forward to them, the big reveal of which stars would be in them this year, like advertising's version of The Morecambe & Wise Show.
The most successful festive spot this year is, of course, John Lewis. While the other retailers are determined to remind us that they have Christmas fare at Christmas - surely an unnecessary crossing of the Ts - it is content to sell us an idea. What's in the box? Not a toy or a turkey or a mince pie, but love itself. Who could fail to love that? If only the dad were James Stewart, the effect would be complete.
Reminded, then, that this is a time for generosity of spirit above all else, you have to say that no-one else does much wrong. At a time for family, nostalgia, bad cracker jokes and song, you'd be a diehard cynic to deny Bruce the chance to relive his glory days (when 20-odd million tuned in to see him on Christmas Day) with "good game, good game" (Morrisons). Or see fault in a Disneyfied X Factor choir granting our wishes (Marks & Spencer) - though, like Nike at successive Olympics, there was always the danger with this approach that not all the "stars" would last the course.
A chorus of the Pogues and an alliterative Tesco trot round the UK is welcome in its own sweet way. As is a panto hosted by Jamie (Sainsbury's), even if he looks like his heart's not in it any more.
They're all quite nicely done too, particularly the Argos aliens as they perch sweetly, and a little darkly, on Santa's knee.
It's just that they all look less original, less confident and less purely Christmassy next to the beautifully crafted tale of the boy and his box.
RUSS LIDSTONE - chief executive, Euro RSCG London
Christmas promises to be the most important moment in retail we've seen for many years. Soft demand, sales growth "difficult" and a need to protect margins. Stealing share and trade-driving objectives need communications to underpin a brand proposition, demonstrate range and underpin value ...
And that's only half the story. How celebratory? Reflect the economic context? Tough Christmas briefs all round this year.
Sainsbury's and Morrisons opt for a range of demonstrations with their brand "spokescelebs". Jamie puts on a "nice spread" (as my aunty used to call it) for panto characters and demonstrates brilliantly how hard it is to cuddle a giant. Morrisons builds a new open-air market in the snow fronted by the monotone Freddie. A cameo by Brucey on the big wheel doesn't hide the panic in Freddie's repetitive "they will come" and the endline: "Come to us for Christmas." Maybe it should have been Derren Brown on the big wheel.
Tesco's "backbone of Britain" production shows product usage around the country, including windswept Torquay (factually inaccurate, given Torquay is in the tropical English Riviera).
Updated Smash Martians wonder why humans queue rather than click and collect at Argos. They make a good point, but maybe a visit to my local Argos will help them understand that, in retail, "you're only as good as your local store".
Ditching supermodels for The X Factor crew was a brave move for Marks & Spencer. It should have worked, but a lacklustre competition means this execution doesn't quite have the sparkle it deserved.
John Lewis made my wife cry on the sofa and, as far as I can tell (Charlie Brooker), still has her IQ fully intact. Faultlessly executed, it makes me embrace the romance of Christmas rather than feel commercially pressured. It celebrates the joy, not the drudgery. It magnifies what I believe to be true of John Lewis and what I hope to be true of Christmas.
Hats off to the client and agency. They may have just gained a minute percentage-point share increase from the Lidstone household, and maybe many others like ours.
WHAT THE PUBLIC TWEETED
JOHN LEWIS

@grigal - No matter how often I see the John Lewis Christmas Advert on TV my heart still meltsTw
@Schofe - "Ok John Lewis, we've all got tears in our eyes! Yours is the cutest Christmas ad so far :)".
YouTube views = 2,963,000
MARKS & SPENCER
@cyberpixie - I don't watch the X Factor and so the M&S Christmas advert makes me NOT want to shop there for this reason. Tacksville.
@harry__spencer - It would be a dream come true if M&S stopped whoring themselves out with those talentless X Factor losers.
YouTube views = 243,150
ARGOS
@steosphere - Argos has a strange interpretation of christmas with aliens shopping in their advert
@AimeeYoungTWx - The aliens in the argos advert are just too cute. Can I just have one them for my christmas please?
YouTube views = 134,100
MORRISONS
@Themichaelhardy - Sir Bruce Forsyth does a great impression of the ghost of Christmas future in the Morrisons advert ...
@SophiaHowes - I hate Morrisons but I LOVE their Christmas advert!
YouTube views = 31,500
TESCO
@jakeshah - Hate that Tesco are using a stylised version of 'Fairytale of New York' as their Christmas advert. It's not what Kirsty would have wanted
@NickyDark - Caerphilly gets name checked on the new Tesco Christmas advert. We also have a Wimpy on our high street. This town is SO BIG TIME.
YouTube views = 29,250
SAINSBURY'S
@Miss_Alaynius - I don't mind Jamie Oliver, but this new Xmas add he's done for Sainsburys, makes me want to take a mince pie and stuff it up his chimney.
@Sazchik - Just seen the Sainsburys Christmas advert. It looks like David Lynch directed it.
YouTube views = 22,400
YouTube figures correct as of 9am on 28 November 2011. Video with highest number of overall views used.